We hope you are planning a trip to browngrotta arts in Wilton, Connecticut to visit Influence and Evolution: Fiber Sculpture…then and now between April 24 and May 3rd. If you have the time and inclination here are a few other activities you might find of interest.
Denyse Schmidt: In The Making
Historic Inspirations/New Quilts
Wilton Historical Society
224 Danbury Road
Wilton, CT 06897
203.762.7257
The creations in Denyse Schmidt: In The Making Historic Inspirations/New Quilts are modern interpretations of classic quilt designs – contemporary, functional textile art with deep historic roots. Schmidt's quilts, with their quirky style and fearless use of color, are fresh and unexpected interpretations of traditional patterns like Rail Fence, Lafayette Orange Peel, Ocean Waves, Mariner's Compass, Streak of Lightning, Wagon Wheel, Snake Trail, and Churn Dash. Many resemble abstract collage paintings, and all share their maker's unselfconscious directness. Also at the Society, One Loop at a Time: June Myles' Hooked Art, hooked works, "painted in wool" in a style that finds its origins in folk art.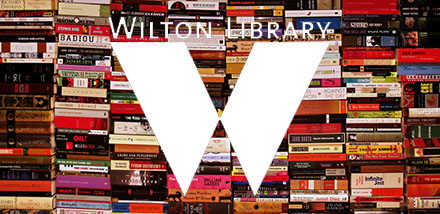 Gigantic Spring Book Sale Fundraiser
Wilton Library
137 Old Ridgefield Road
Wilton, CT 06897
203.762.3950
April 25th 9-5
April 26th 12-5
April 27th and 28th, 10-5 (prices reduced)
The Wilton Library sale wilton-library's-annual-gigantic-book-sale features more than 70,000 items sorted in more than 50 categories – mysteries, gardening, travel, and science fiction; gently used, collectible, rare books, DVD's, CD's, books on CD and a building by architect and designer Eliot Noyes. Notes was head of Industrial Design at MoMA and worked as consultant design director for IBM for 21 years collaborating with Paul Rand and Charles Eames in the first comprehensive corporate design program in America. Homes by Notes can also be found in nearby New Canaan. Learn more specifics in Eliot Noyes by Gordon Bruce.
A little farther afield:
KA-POW! When Comics Imperiled America
Flinn Gallery
Greenwich Library
Second Floor
101 West Putnam Avenue
Greenwich, CT 06830
"The idea here is to look at a period in American history where we were fearful that comic books were creating juvenile delinquents," says Rob Reiner, the owner of the 74 panels of coveted comic art that makes up the exhibit. The crime and horror titles were considering so dangerous, the U.S. Senate launched a formal investigation into comic books during that virtually closed down the comic industry. http://flinngallery.com/onview.php
Through April 29th only
Hours:
Saturday 10:00 am – 5:00 pm
Sunday 1:00 pm – 5:00 pm
Monday, Tuesday, Wednesday 10:00 am – 5:00 pm
Chris Larson: The Katonah Relocation Project and A Home for Art: Edward Larrabee Barnes and KMA
Katonah Museum of Art
134 Jay Street – Route 22
Katonah, NY 10536
914.232.9555
Chris Larson: The Katonah Relocation Project, the Museum explores the literal relocation of Katonah 122 years ago. By the late 1800s, New York City's need for more drinking water necessitated the creation of a new fresh water reservoir in Westchester. The site selected for the reservoir included three towns, including Katonah, condemning them to be flooded. As reported on April 8, 1893 in The New York Times, "The doom of Katonah is sealed, and in two months the picturesque village will be barely more than a memory conjured up in the mind at the sound of its quaint old Indian name." The residents lifted their homes onto logs to be pulled by horses along soap-slicked timbers, re-siting their town to present-day Katonah. With a nod to the Katonah narrative,Larson constructs a replica of the Mt. Kisco home of the KMA's architect Edward Larrabee Barnes, as if it were dragged in on logs, elevated on timber cribbing, and pierced through by the Norway spruce trees.
A Home for Art: Edward Larrabee Barnes and KMA celebrates the architect who designed the KMA. Trained by legendary architects at Harvard University, Edward Larrabee Barnes strove for simplicity and functionality in his designs for skyscrapers, museums, schools, botanical gardens, and private homes. The Katonah Museum project was unique in design—an intimate, light-filled space surrounded by the natural beauty of this idyllic hamlet located just 45 minutes from New York City. Unlike many large projects Barnes was to undertake, this one was as much a form of personal expression as architectural design, with the informal feel of a domestic space for art, as he worked in Manhattan but lived within family in nearby Mt. Kisco. http://www.katonahmuseum.org/exhibitions/.
Hours:
Tuesday through Saturday: 10-5
Closed Monday

The Aldrich Museum of Contemporary Art, just up the street from browngrotta arts at 258 Main Street, Ridgefield, Connecticut, is between exhibitions between exhibitions, re-opening on May 3rd. However, staff there have told us they expect to have some of the galleries will be open, including possibly, Nancy Shaver's Reconciliation, in which the artist will juxtapose recent sculpture made from women's clothing fabric and other materials and objects found in rural thrift stores with Depression-era photographs by Walker Evans (who was one of her teachers) and images of the artist, fabric, and clothing designer Sonia Delaunay. Call first to confirm: 203.438.4519. The Aldrich is just up the street from browngrotta arts at 258 Main Street, Ridgefield, CT.
If you'd like a list of restaurants in the area, contact us at art@browngrotta.com.