The human figure in art is the most direct means by which art can address the human condition, says The Roland Collection of films on art, architecture and authors. "In early societies its significance was supernatural, a rendering of gods or spirits in human form. Later, in the Renaissance, although Christianity provided the dominant social belief system, Western art's obsession with the figure reflected an increasingly humanist outlook, with humankind at the center of the universe. The distortions of Modernist art, meanwhile, may be interpreted as reflecting human alienation, isolation and anguish."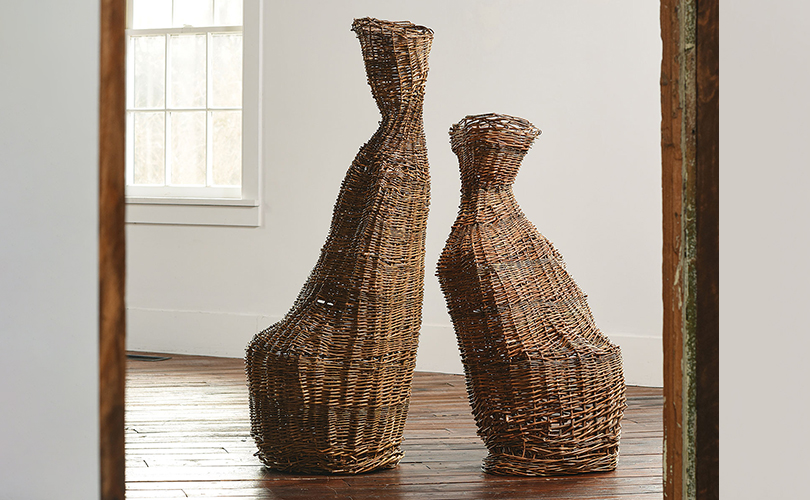 Among the artists represented in the browngrotta arts' collection are several who recreate the human figure in three-dimensions with provocative results. Dawn MacNutt of Canada is known for her nearly life-size figures of willow and seagrass. The sculpture and architecture of ancient Greece has been a major influence on her vision. "I first experienced pre-classical Greek sculpture in the hallways of the Metropolitan Museum of Art in New York as a teenager in the 1950s." she says. "When I visited Greece 40 years later, the marble human forms resonated even more strongly.  The posture and attitude of ancient Greek sculpture reflects forms as fresh and iconic as today… sometimes formal … sometimes relaxed. Her works, like Praise North and Praise South, reflect the marble human forms, columns, caryatids …  sometimes truncated… found outdoors as well as in museums in Greece. They were inspired by two study and work trips to Greece just before and after the millennium, 1995 and 2000.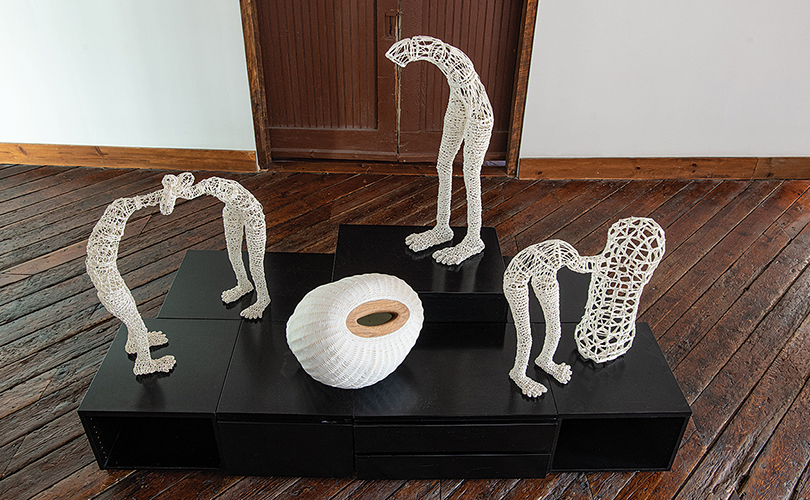 Figures created by Stéphanie Jacques of Belgium are clearly humanoid, but less literal. "For a long time I have been trying to create a figure that stands upright," Jacques explain. "…all of this is related to the questions I ask myself about femininity and sexual identity. My driving forces are the emotions, the wants and the impossibilities that are particular to me. Once all this comes out, I seek to make it resonate in others. My work is not a lament, but a place where I can transform things to go on."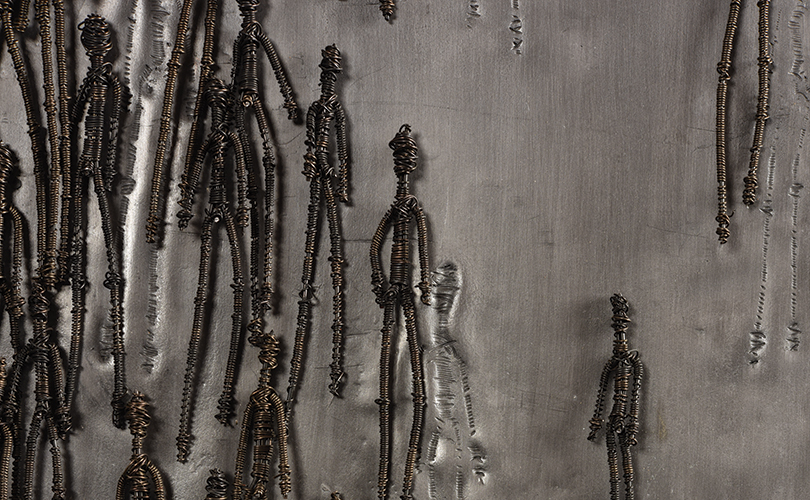 As Artsy has chronicled, drawn, painted, and sculpted images of human beings can be found in Han Dynasty tombs in China, in Mayan art, and even in the nearly 30,000-year-old wall drawings of the Chauvet Caves in southern France. In incorporating the figure into her work, Mary Giles responded to the graphic power of the male image in early art, such as the petroglyphs of the Southwest, aerial views of prehistoric land art, and the rudimentary figures of Native American baskets. She used similar representations of men on her baskets. Her husband, architect, Jim Harris, told the Racine Art Museum, "Sometimes they were made with the bodies of the men created as part of the coiling process but with the arms and legs added as three-dimensional elements, Some baskets were supported by the legs of the figures. Later, this idea evolved into totems with coiled bodies, the legs as part of a supporting armature, and the arms as free elements. She made over 50 totems! They were small and large, singular and in pairs. They were embellished with everything from puka shells gathered at the beach, to all sorts of metal elements both found and individually made by Mary."
In 2007, Giles made a piece with individual male figures made of wrapped wire placed directly into the wall. It was composed of hundreds of torched copper wire men arranged outwardly from dense to sparse. She continued this work by placing the figures onto panels. These dealt with Giles' concerns about population. "They are not baskets," she explained , "but the men they incorporate have been on my vessels for nearly 30 years. I am still working with these ideas of overpopulation, density and boundaries," she said in 2013 in her remarks on being awarded the Master of the Medium Award for Fiber from the James Renwick Alliance.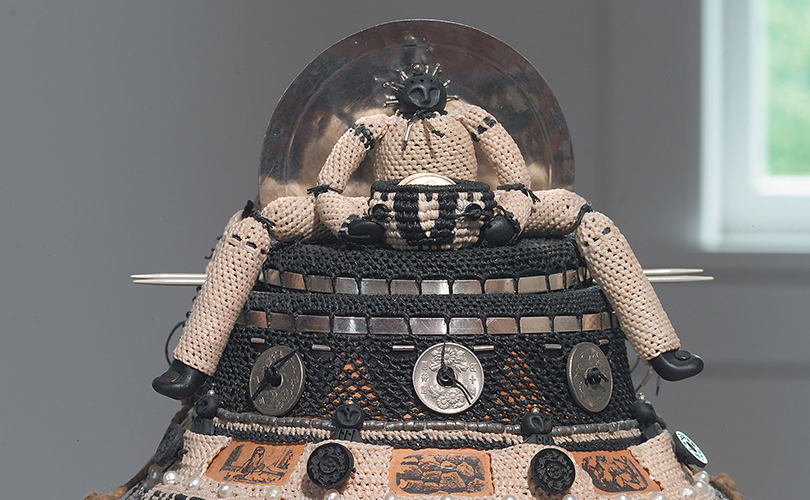 Where Mary Giles featured male figures in her works, Judy Mulford's figures were nearly always women — mothers, sisters, daughters. "My work is autobiographical, personal, graphic and narrative," she said. "And always, a feeling of being in touch with my female ancestral beginnings.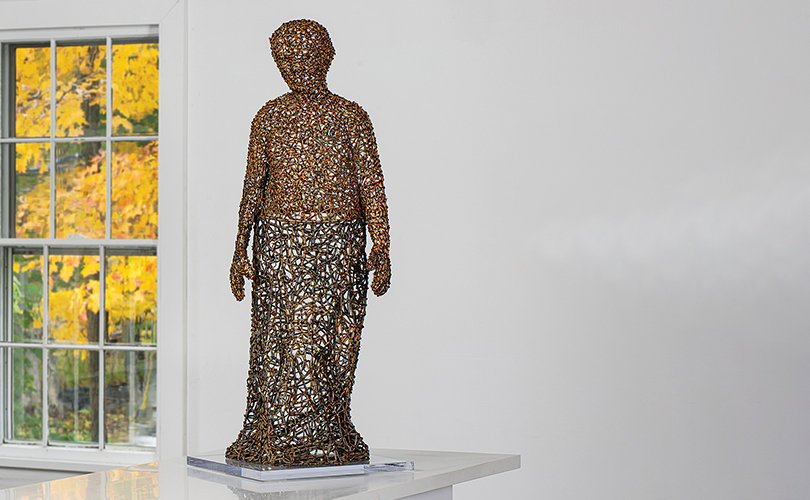 The humans that John McQueen creates of bark often answer questions. McQueen received a Gold Medal from the American Craft Council this year. He has "revolutionized the conventional definition of a basket by raising issues of containment and isolation, security and control, and connections between humans and nature through his work" in the view of the Council, "creating highly original forms." In Centered, that connection is front and center as a figure emerges from leaves. In Guise, a male figure wears a skirt to help his balance, the artist says. Tilting at Windmills, speaks for itself — a human figure tips sidewise on one leg — holding its own for the moment, but capable of toppling over at any time.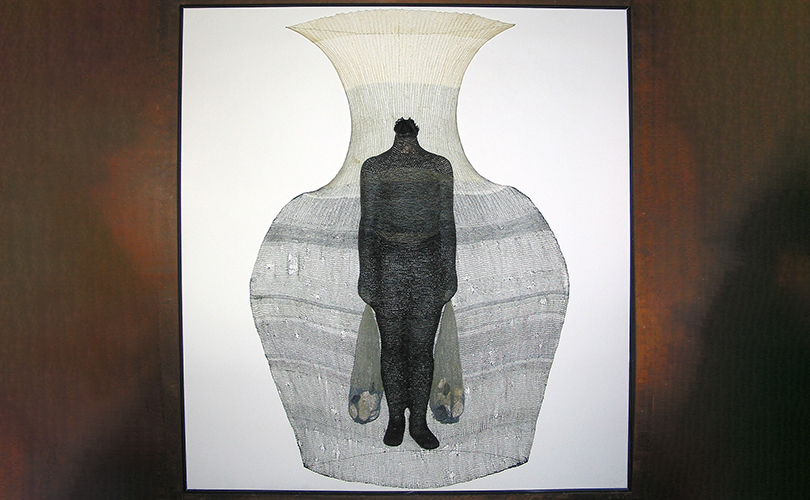 Norma Minkowitz also began her explorations with vessels, sculptural and crocheted, adding depictions of human figures later in her career. "As I exhausted the possibilities of the many enclosed vessel forms that I had created," Minkowitz told Zone Arts, "I turned to my interest in the human form.  My earliest drawings in pen and ink were always about the human form as well as the human condition. I now returned to the idea of using the figure in my sculptures which was a difficult transition to create –making them transparent and at the same time structured. These where at once much larger and more complicated than the vessel forms. These veiled figurative sculptures were mostly created in the 1990s to the mid- 2000's. I have also created multi-figure sculptures that illustrate the passage of time and other kinds of transitions, I call these installations sequential as I often use several juxtaposed and related figures together."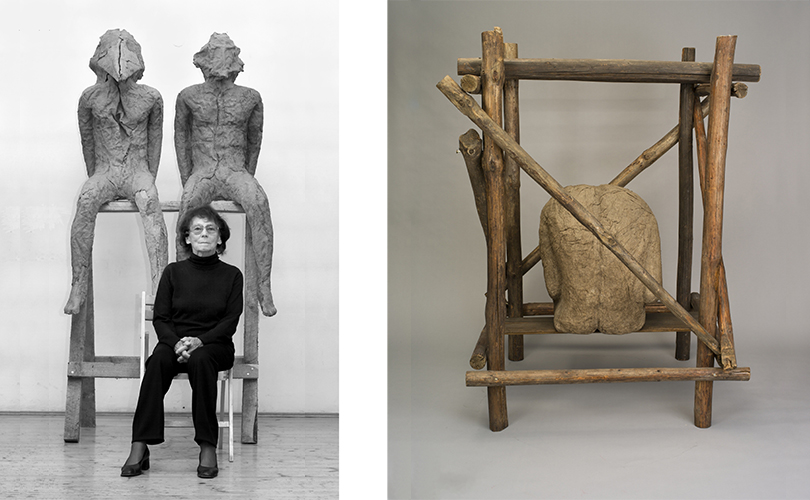 The best-known human figures of fiber are perhaps those by Magdalena Abakanowicz, made of burlap (and later of steel).  "Abakanowicz drew from the human lot of the 20th century, the lot of a man destroyed by the disasters of that century, a man who wants to be born anew," said Andrzej Szczerski, head of the National Museum in Krakow when the sculptor died in 2017. (https://www.latimes.com/local/obituaries/la-me-magdalena-abakanowicz-20170424-story.html). She had begun her art work as a painter, then created enormous woven tapestries, Abakans, in the earlier '60s, which heralded the contemporary fiber movement. These works led to burlap backs, then standing figures then legions of figures of metal, like those in Chicago's Millennium Park. Like other artists promoted by browngrotta arts, Abakanowicz, "… showed that sculpture does not need to be in one block," art critic Monika Branicka said, "that it can be a situation in space and that it can be made of fabrics."