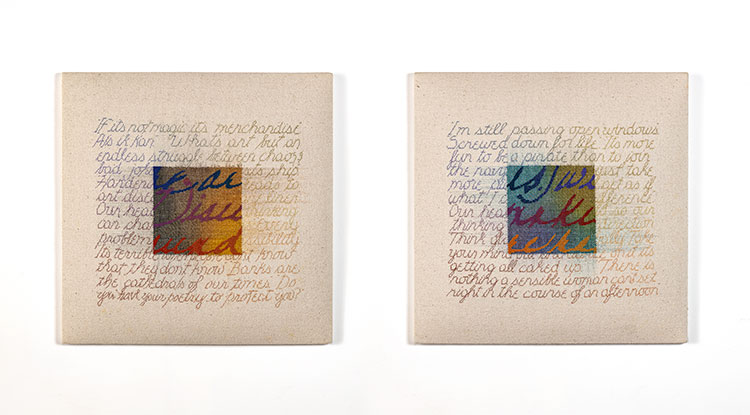 Through November 7th, browngrotta arts is participating in Art & Text, an inaugural collaboration of 13 libraries in Fairfield County, Connecticut. Each library within the consortium will highlight one or more artists, whose work reflects their unique perspectives on the exhibition's theme. Throughout the County, Art & Text runs from September 1 through December 31, 2019, with shows running from one week to 3 months, depending on a library's individual calendar. Through mixed media, ranging from sculpture and painting to graphics, each library's exhibition aims to promote awareness of visual arts in the libraries of Fairfield County, as well as foster a connection between the community it serves and the arts.
browngrotta arts provided works by nine artists who use text in their art in a a number of different ways, including embroidered words, collaged newspapers and sculptured works made of the Congressional Record.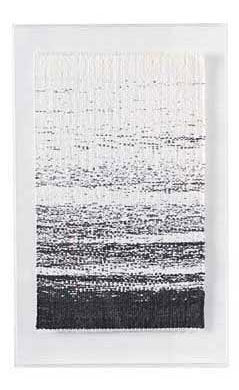 One of the works included is by Naomi Kobayashi who incorporates strips of calligraphy into her weavings. In a an ideal Art & Text plot twist, author William Bayer was inspired by Kobayashi's work. In his book Hiding in the Weave, the protagonists have to deconstruct a weaving to find a clue to solve a mysterious death. Other artists presented through browngrotta arts include Dana Romeis, who is an artist and interior designer from St. Louis, Missouri. She has a background in art and textiles. From an early age, Dana has been drawn to the intricacy of design. She is particularly fond of the quote, "God is in the details" by Mies van der Rohe. In On Life and On Art, she has incorporated text into her weavings.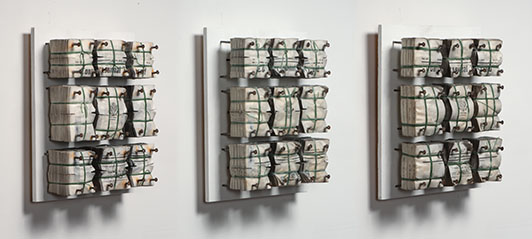 Kate Hunt is from Montana and has recently relocated to Mexico. She says of newsprint, her chosen material: "Newspaper as a construction material is cheap and easy to obtain. It forgives easily. I love the color and feel and its changes in color over time. The size range is equal to that of wood. Texture and density are adjustable. The audience has a history and experience with newspaper that they bring to each of my pieces resulting in a dialog that transcends anything that I thought of as an artist."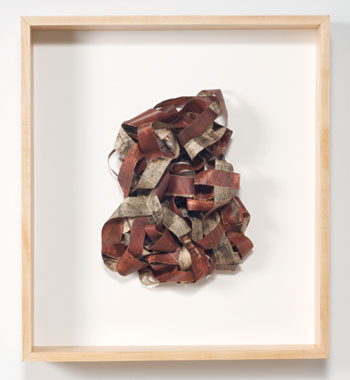 Japanese artist Toshio Sekiji intertwines strips of paper from various cultures, rewriting messages and imaging a harmonius confluence of disparate cultures, languages and nationalities – different than the facts on the ground. California artist, Ed Rossbach, was a relentless experimenter. He learned all manner of textile techniques from double weave to bobbin lace making and then applied them to unusual materials with striking results. It the work in Art & Text, Rossbach has used throwaway materials – annual report pages – to create a vessel that looks like a colorful vase. Judy Mulford is also from California. Her work, which often includes gourds, celebrates women and the family. In this case, words about family life and celebration are spelled out in thread using a button-hole technique.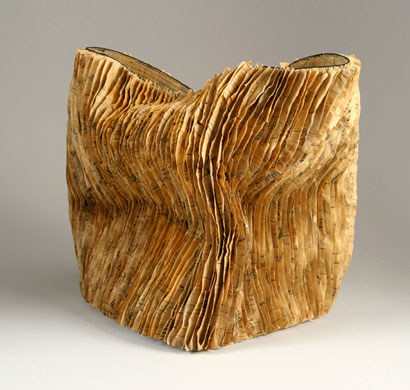 An unusual sculpture by Washington state artist Dona Anderson is included. Anderson uses everyday materials in her works. Her vessel in Art andText is made from dressmaker patterns and the instructions can still be read on its sides. Like Ed Rossbach, Sylvia Seventy was part of California's fiber movement of the 60s and 70s. She began making vessels of handmade paper then, a process she continues. Her vessels are whimsical incorporating everything from feathers and pins to beads and googly eyes. In this work she has included text telling the viewer to consider the back – where may artist secrets can be found.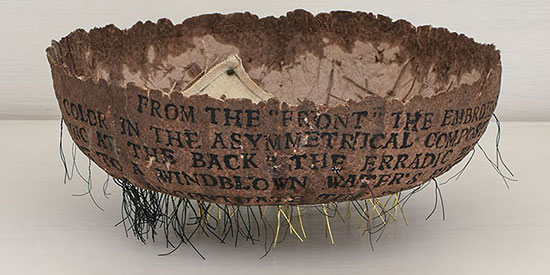 The opening of Art & Text at the Wilton Library takes place on Friday, October 11th from 6 pm to 7:30 pm. The Library is at: 137 Old Ridgefield Rd, Wilton, CT 06897. A majority of the works are available for purchase with a portion of the proceeds benefiting the Library. Media Sponsor: The Wilton Bulletin.