More great book reading ahead. This week, fiction and philosophy and recommendations from browngrotta arts and our artists.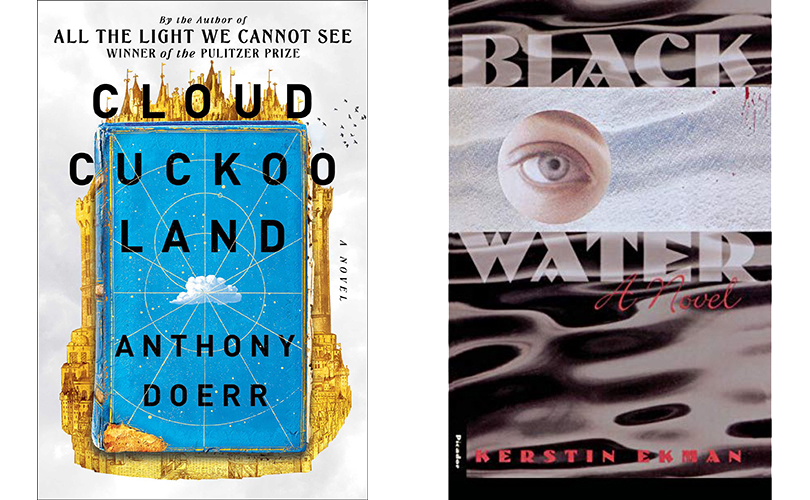 In Cloud Cuckoo Land, Wendy Wahl writes, "Anthony Doer takes the reader on a kaleidoscopic ride that is expansive and intimate. His characters include those from the past, present, future, and multi-species beings bound together on a journey about the love of books in general and one in particular. I was drawn in from the beginning by the thought of young girls tied to needle and thread embroidering liturgical garments. Each of the storylines brought up unexpected emotions. I will return to this novel again and again. Learn more about this amazing tale from this NPR review: https://www.npr.org/2021/09/28/1041004908/anthony-doerr-cloud-cuckoo-land-review. 
Both Gjertrud Hals and Jane Balsgaard are fans of Swedish writer Kerstin Ekman. Hals says Ekman is her favorite autjor. She just read Löpa Varg, (only in Swedish, for now) and her big book about the woods Herrarna i slogan, from 2007. The Free Online Library says of Herrarna i slogan, "Appropriately, the title is ambiguous. Ekman is writing about the forest (skogen); more precisely, about the vast Swedish acreage of forested land, a forest paradigm as good as any. The first word in the title (herrarna) means either "the men/ gentlemen" or "the masters/lords." These are the men, real or fictional, who have lived with the forest and known it and turned it into what it is today, be they masterful industrial foresters or crouching botanists, lumberjacks or poets, Sir Olof in a sad medieval folksong or Dr. Astrov in Chekhov's Uncle Vanja."  Balsgaard read Blackwater (in English) a thriller by Ekman that gave her"the feeling of the soul from old Sweden."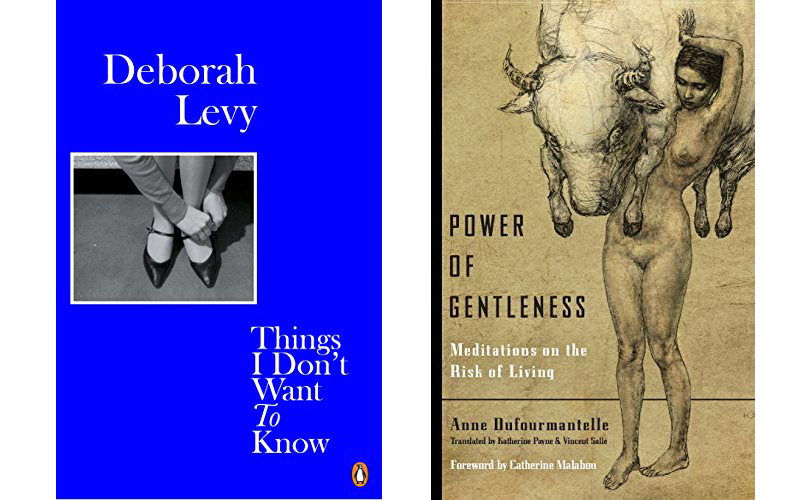 A few of the recommendations are more philosophical. Things I Don't Want to Know, by Deborah Levy is recommended by Stéphanie Jacques, who read it in French, and also the other two volumes in her Cost of Living series. "Great books," says Jacques. "I loved her voice, her writing, the way she looks at life. She talks about creation and how to continue but not only that." Jacques also recommends Power of Gentleness; Meditations on the Risk of Living by Anne Dufourmantelle. "Also a great author, and a book that helps us through life." Yeonsoon Chang is rereading the Asian classic, Book of Changes (The I Ching). "This book inspires me," she says.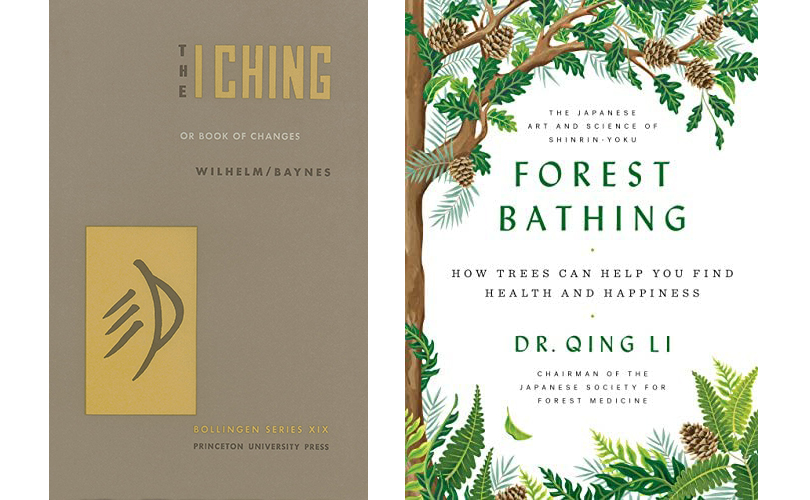 Nancy Moore Bess has been pursuing an interest in Shinrin Yoku, or Forest Breathing. "It was formulated by a Japanese government agency in the early 1980s," she writes, "but I feel there's a strong connection to Shintoism and its respect for and connection with nature. Practicing Shinrin Yoku is a form of meditation that draws calmness from being in nature. I have often experienced this sense of peace and calm when alone in a bamboo grove. I guess this is a good time in my life to remember those moments. Wish I could capture them again." Want to know more? Amazon lists Forest Breathing: How Trees Can Bring You Health and Happiness as having 4.5 stars from 777 reviewers. 
At browngrotta arts we also have a group of recommendations — all of which are found on our website. First, our most recent book, Gyöngy Laky: Screwing with Order — assorted art, actions and creative practice with text by Mija Reidel, David M. Roth, and design by Tom Grotta. At 328 pages, it is the first comprehensive monograph on the work of this exceptional artist. It looks at her life from three perspectives: "Laky's personal story of immigration and education is narrated by arts and culture writer, Mija Reidel. An assessment of the evolution and impetus for Laky's work is given by David M. Roth, editor and publisher of Squarecylinder, a San Francisco Bay Area online visual art magazine. Finally, images of forms, vessels, and wall works provide insight into Laky's studio practice, activism, and philosophy of sustainable art and design, original thinking, and the value of the unexpected." ("Celebrating Gyöngy Laky," Selvedge Magazine, July 17, 2022).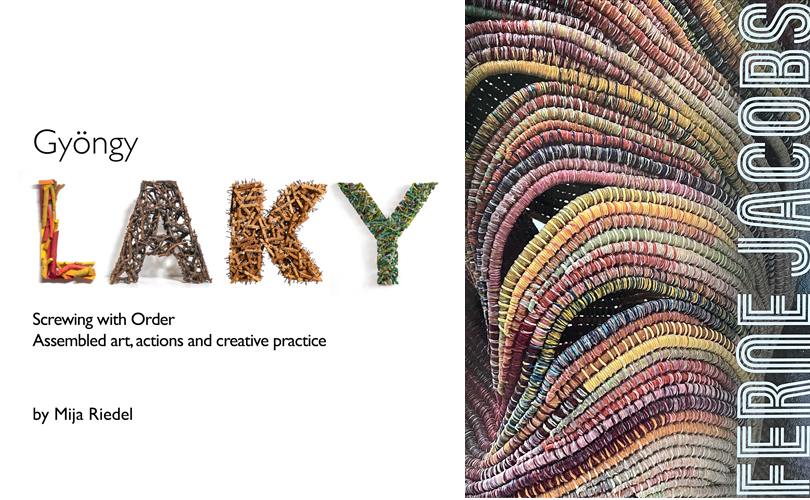 An expansive catalog was also created in conjunction with the retrospective of Ferne Jacob's work at the Craft in Americagallery in Los Angeles. You can obtain a copy of Ferne Jacobs: Building the Essentials on our website. Jacobs has been at the forefront of the revolution in fiber art since the 1960s, She has pioneered ways to create a new category of sculpture. Transforming materials and pushing boundaries, she builds solid structures with coiled, twined, and knotted thread. This exhibition was the first to survey more than 50 years of Jacobs' pivotal and timeless work through the present. Jacobs' intimate drawings and collage diaries, which had never been publicly displayed, were included providing an additional lens into her vision, inspiration, and philosophical perspective.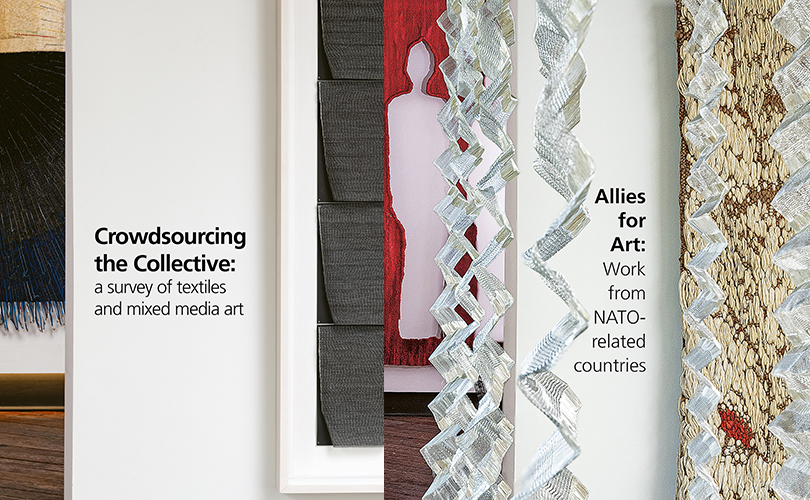 Two of our 2023 exhibition catalogs are available from our store. Crowdsourcing the Collective. a survey of textile and multimedia art (148 pages) features 42 international artists whose work illustrates the vitality of art textiles, ceramics and mixed media. The artists come from four continents and work in a wide varity of materials and techniques: tapestries of silk and agave, sculptures of seaweed, seagrass and willow, wall works made of sandpaper, hemp and horsehair, and ceramics of Shigaraki clay. Our most recent catalog, published in October is Allies for Art: work from NATO-related countries (148 pages). It showcases work by nearly 50 artists from 21 countries made from the 1960s through the present. The diverse fiber works and sculpture in the exhibition were created by artists who fled repressive regimes, who have worked under and around government restrictions and who have been influenced by current political instability in Europe. The catlog includes 132 photos and an essay by Kate Bonansinga, Director, School of Art, College of Design, Architecture, Art, and Planning at the University of Cincinnati, Ohio. 
Good gifting and good reading!!