Art often has a point of view. Artists shine a light on society's ills, chide fellow citizens, disrupt the status quo. Think Picasso's Guernica, Rockwell's The Problem We All Live With and Judy Chicago's The Dinner Party. In honor of art's pivotal political role, for the next three weeks, we share some pointed commentary from our artists, to contemplate in this heightened US election season. In this post, works by Danish artist Grethe Sørensen and American artist Gyöngy Laky that foreshadowed the events of this past summer — protests in the US supporting Black Lives Matter movement and criminal justice reform.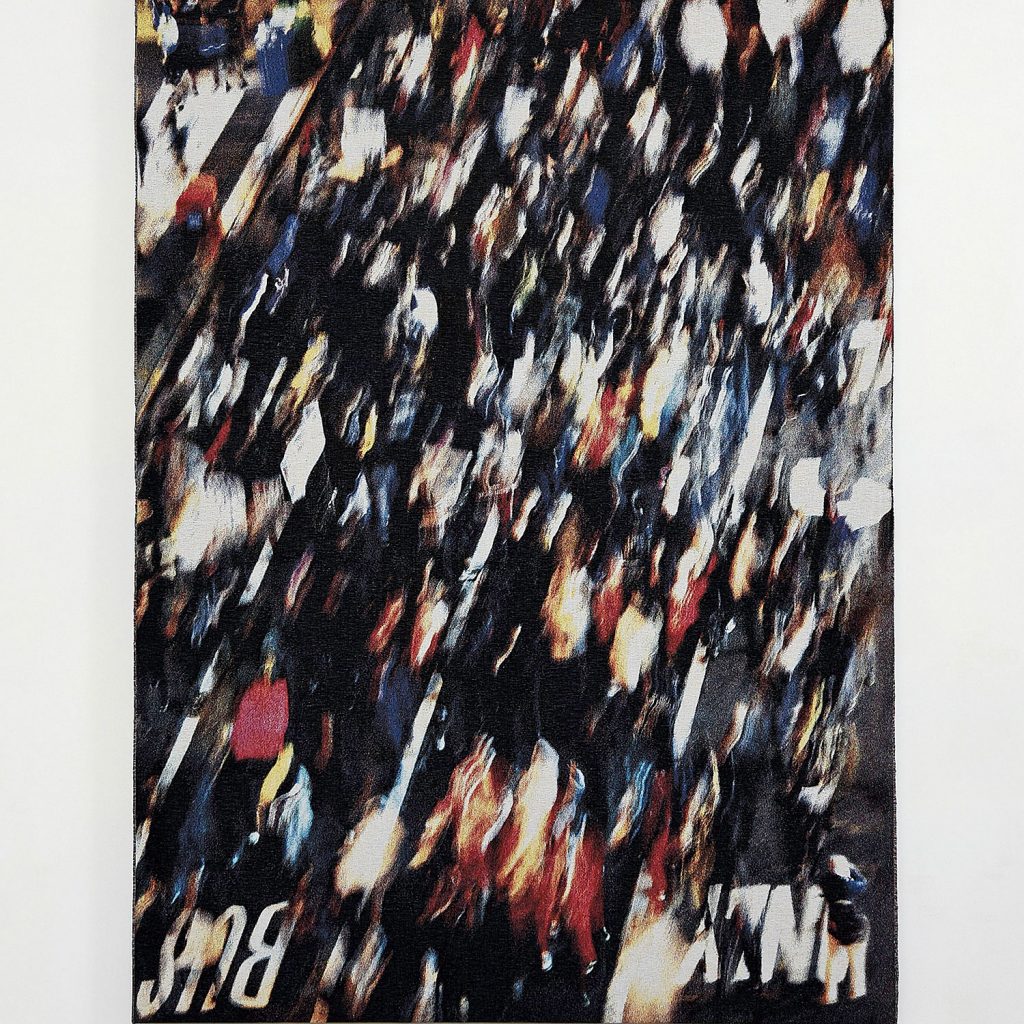 In December 2014, Grethe Sørensen was in New York working on, among other things, finding motifs that might form the basis for a site-specific tapestry (25′ x 21.25′) for a primary school in Denmark. The motif needed to illustrate movement and Sorensen's first idea was to work with light in motion, a subject she had been very engaged in earlier works. "Our hotel was on the corner of Broadway and Canal Street," she writes, "where we had a room on the 7th floor. When we got back to the hotel on December 13th around 6 pm, Broadway was filled with people instead of the usual cars in seven lanes. Thousands of people of all races came in an endless stream down the street shouting 'I can't breathe' or 'stay calm, don't shoot', carrying banners and flags, small and large signs with the words 'I can"t breathe'. It was very moving, and we felt we were witnessing a momentous event which we as foreigners could not take part in." Sørensen and her husband rushed back to their room and began to shoot video and take stills to document this spontaneous outpouring of citizen outrage.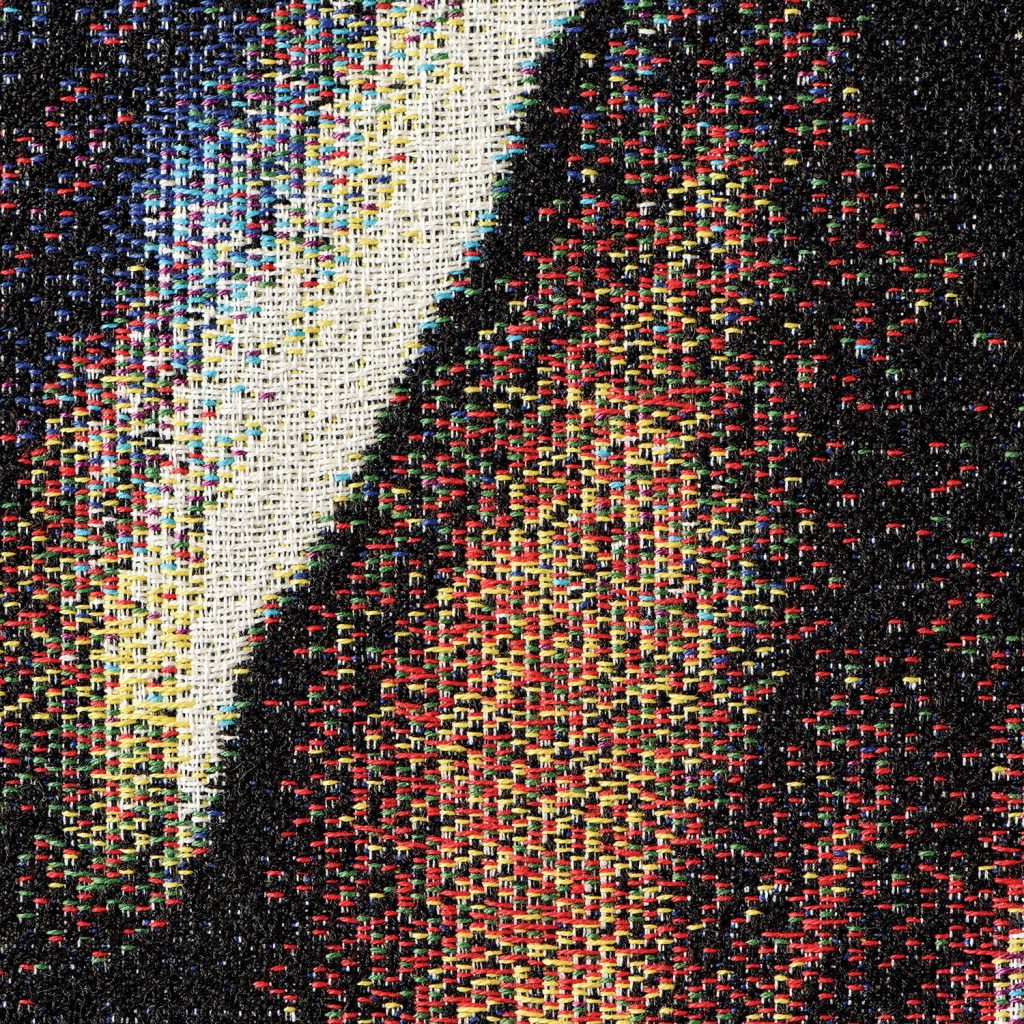 They had found themselves in the middle of the protest march against the police violence caused by the death of Eric Garner during a brutal arrest, captured on video and viewed around the world. "When I went through my material from New York," says Sørensen, "there was no doubt, the motif from the march should form the basis for the tapestry for the school. This motif describes movement in all ways – people are moving mentally, emotionally, politically and physically – I can hardly imagine a better motif for a teaching institution." Movement presents this motif in a smaller scale.
The death of Eric Garner also impacted Gyöngy Laky's work. Laky's work often addresses current events. In June, 2014. she was working on a project involving airplanes having been invited to participate in "Airplane Show" planned for January, 2015, at b sakata garo, a gallery in Sacramento, CA.
"Airplanes!," Laky writes. "What a great topic to contemplate. They are elegant shapes full of history and significance, having altered human civilization in a most consequential way. I found my imagination ranging from bird-shaped baskets to exotic flying machines that allowed us earth-bound humans to lift ourselves off the ground, fly far and near and to experience parts of the world we might otherwise never be able to visit."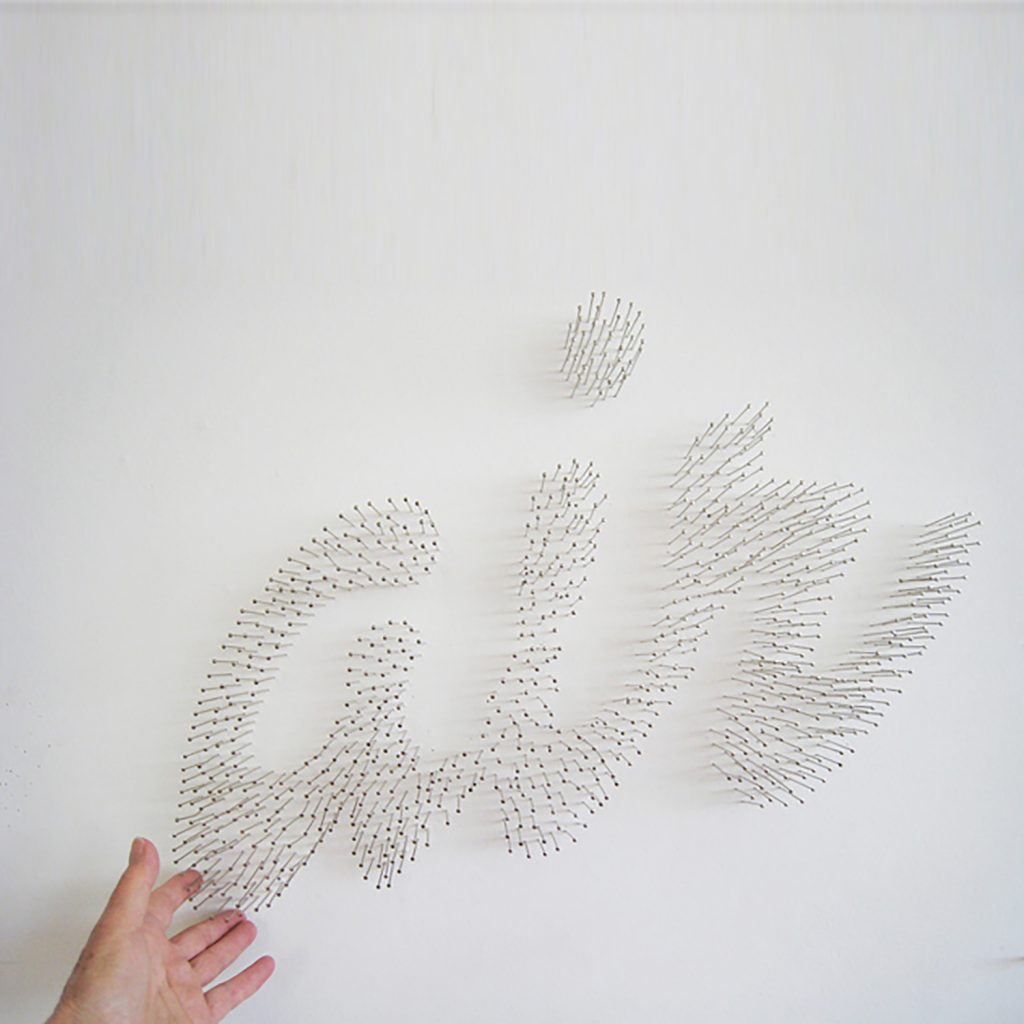 But contemplation did not lead to composition — at least not of an airplane, she recalls. "Nothing I thought up impressed me nor did any of my ideas awaken my interest." Yet, an idea began to grow. "As often occurs in my art process of imagining ideas for works, words drift in my mind intertwining and mingling with imagery I visualize offering possible connotations to contemplate. The word, air began to hold such a deep, full, and reverberating meaning for me that I embraced it as my theme. Air is essential to life and the sky belongs to all of us." she notes. "I began to feel the blocks that were hampering my imagination slipping away. I could breathe more easily again. Frustration was evaporating. I began to discover an intriguing new way of working to create the lightness and poetry the word evoked… stainless steel shimmering pins stuck directly into the wall to form the word in script. It looked tenuous, as if it could be blown away in an instant like the wafting disappearance of contrails whispering the passing of planes overhead."
On Thursday, July 17, 2014, Laky recalls, air became an appalling focus everywhere. Eric Garner was deprived of it in New York by a policeman's chokehold and being held on the ground by other officers." Garner repeated the words 'I can't breathe' 11 times as we watched the video over and over again on every news cycle. It rang in my ears. The video was devastating.
'I can't breathe'
'I can't breathe'
'I can't breathe'
'I can't breathe'
'I can't breathe'
'I can't breathe'
'I can't breathe'
'I can't breathe'
'I can't breathe'
'I can't breathe'
'I can't breathe'
Air took on a new and alarming meaning and became literal as At least 134 people have died in police custody from "asphyxia/restraint" in the past decade alone (6/25/20, USA Today), Laky observes.
As she watched what happened to a man apprehended for allegedly selling cigarettes, the police beating of Rodney King 1991, rose from her memory. "I was born amid the violence of war on the frontlines of battle in Hungary. Though a baby then, I must still carry some of that early trauma deep down somewhere," Laky suggests. "These murders speak to some visceral aspect of my being." She remembered, too, that Rodney King called for an end to the violence, asking, "can we all get along?" "It is my hope," Laky says, "that the protests and demonstrations of today that have given voice to the change that is essential for us to lead us to a better future in which we do all get along."