Who says you can't learn things from watching television? in In a recent episode of Covert Affairs on USA, CIA operative Annie Walker and her sister discuss the world's largest ball of yarn located in Lamar, Missouri. Got me wanting more information.  Turns out that the competition for largest twine ball (some call them yarn balls, but apparently, they are mostly really twine balls) is pretty fierce and Missouri has only two of several contenders.
Darwin, Minnesota boasts a ball that weighs 9 tons and is 12-feet wide and was mentioned in Crazy Al Yankovic's video for the song, White and Nerdy. It was rolled by one man, Francis A. Johnson, between 1950 and 1979 http://www.darwintwineball.com.  Darwin residents look down on a rival twine ball in Cawker City, Kansas.
While it was begun by one man in 1953, it was completed by townspeople in a Twine-a-Thon in 2003 http://skyways.lib.ks.us/towns/Cawker/twine.html. A local artist, Cher Olsen, has integrated the twine ball into her paintings, reworking American Gothic and Mona Lisa and the like and these are on display at the Masterpiece Twine Walk http://www.getruralkansas.org/Cawker-City/61Explore/258.shtml. Lake Nebagamon, Wisconsin has it's own contender.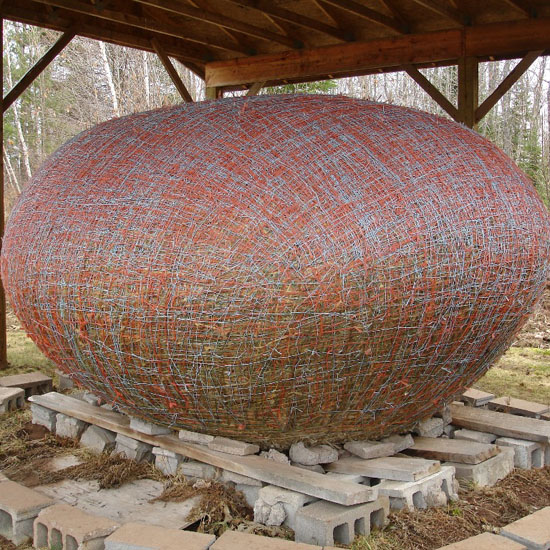 Created by James Frank Kotera who started in 1979, JFK estimates that it weighs 19,336 pounds, which may make it the heaviest twine ball.  Only one entry has been certified by the Guinness Book of World Records. That's the one at Ripley's Believe it or Not in Branson, Missouri that's 41.5 feet in circumference http://www.ripleys.com/branson. (Though some say it shouldn't qualify as it's made of nylon twine.) As for the one in Lamar, Missouri –I couldn't find it but there is an attractive multi-colored ball at the Pattee House Museum in St. Joseph, Missouri http://www.washburn.edu/cas/art/cyoho/archive/MidwestTravel/Patee and reportedly one made of postal string at the American Bowman Restaurant and O'Malley's Pub in Weston, Missouri.  If you're vacationing in the Midwest this summer — check 'em out.  You can get hats, start-your-own-twine-ball kits and great We-Were-There photos.