In our third set of reports creating under corona, artists in Japan, the UK and the US weigh in.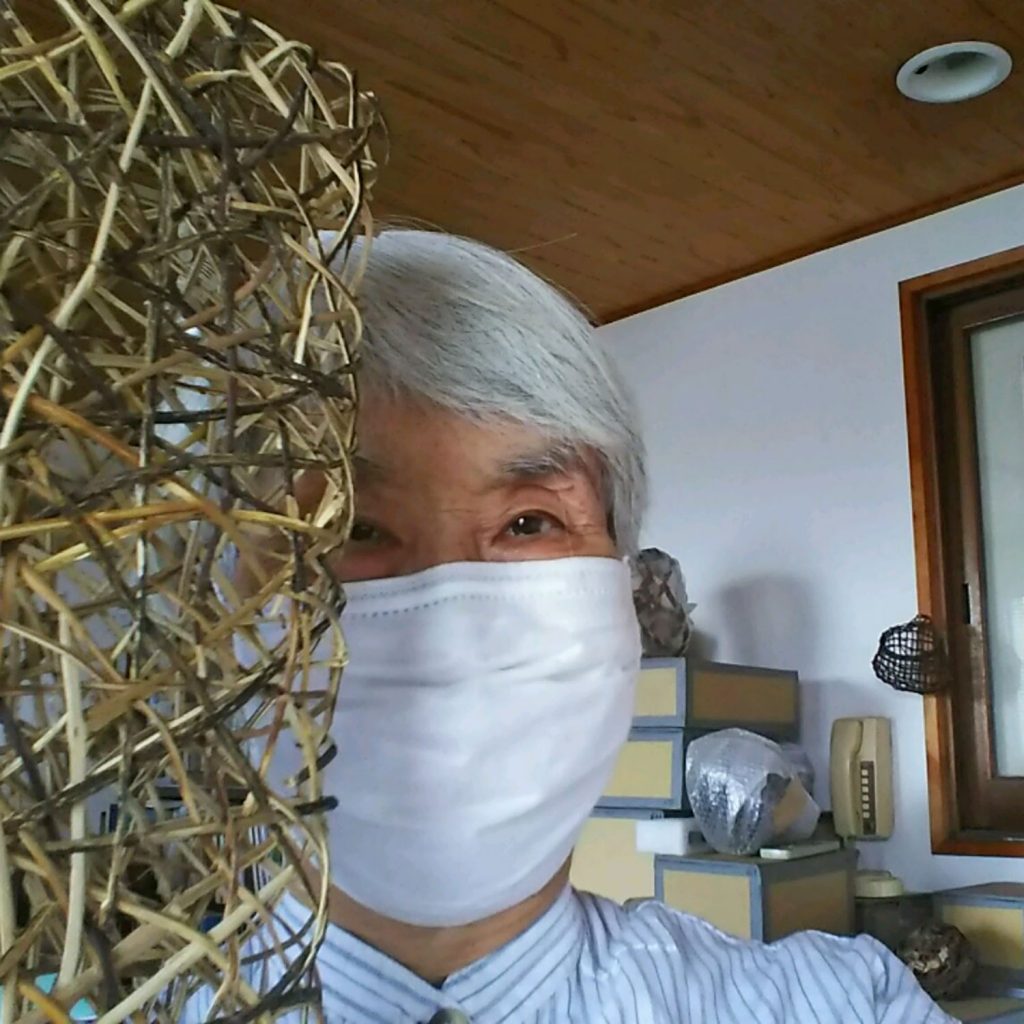 For Hisako Sekijima, writing from Japan, wearing a mask is not that unusual. "Wearing sanitary masks has long been my mother's remedy against flu and all kinds of infections. In my childhood, I felt awkward that I was always wearing a mask of white gauze (of course handmade!) while no other friends in my class had to do so," Hisako recalls. "But she might have learned by experience through the harder health situation of wartime when there was a lack of proper medicine and infection control required tangible protection. My mother was born in 1919 when the Spanish Flu was pandemic. She is living her 100th year now. When the senior citizens home allows the families to visit, I will print and show her photos of fashionable masks. What will be her reaction? I cannot wait for that normal day to come."
"… I have taken the 'weaving' out to the bottom of my garden," says Gizella Warburton who is in the UK. "… listening to the birds… a rare and precious moment. I am busy developing new pieces, in-between planting veg and battling slugs." And, she has tentatively launched an Instagram page: www.instagram.com/gizellakwarburton.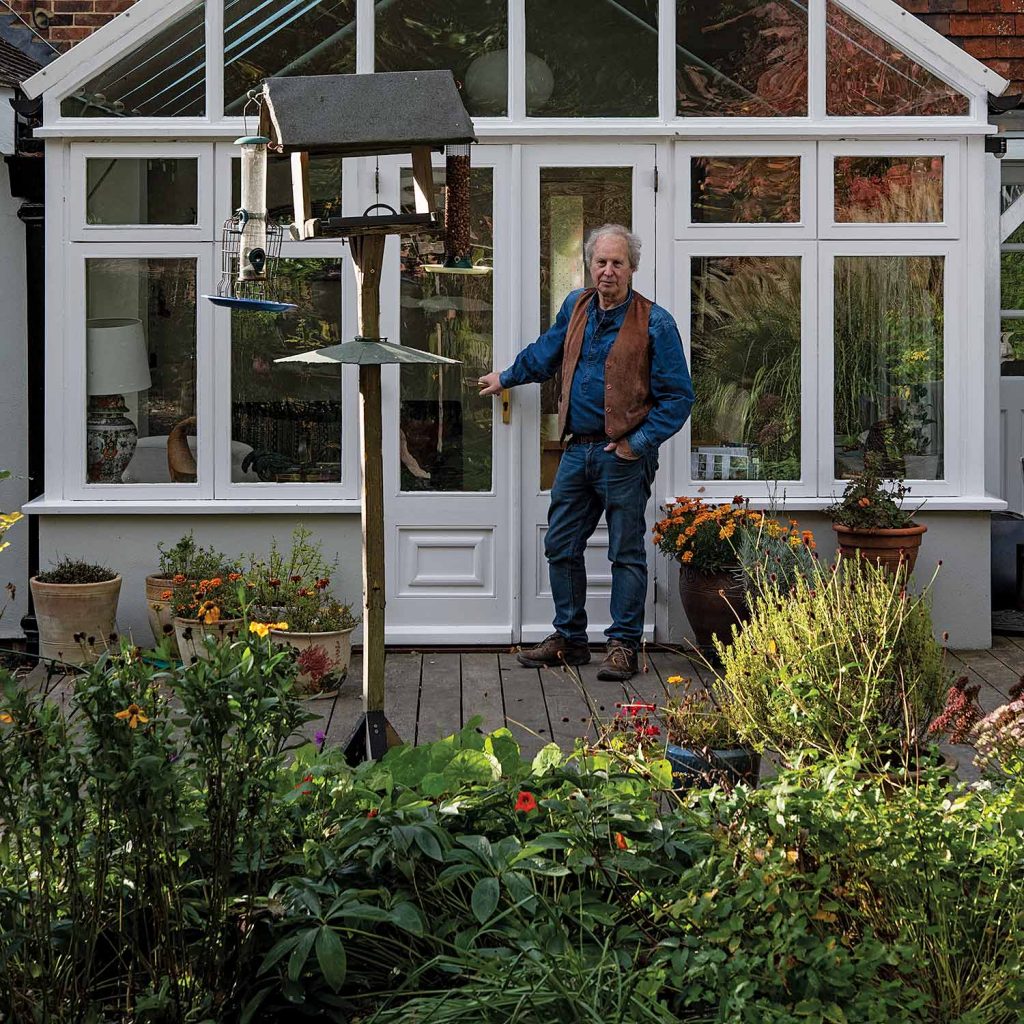 "We are on lockdown here," writes Chris Drury of he and his wife, poet Kay Syrad who are also in the UK, "but it is as good a place to be as ever and we are both busy. Luckily for me, my third year of the Lee Krasner award come through. Gives me the time to work on my retrospective book – Edge of Chaos."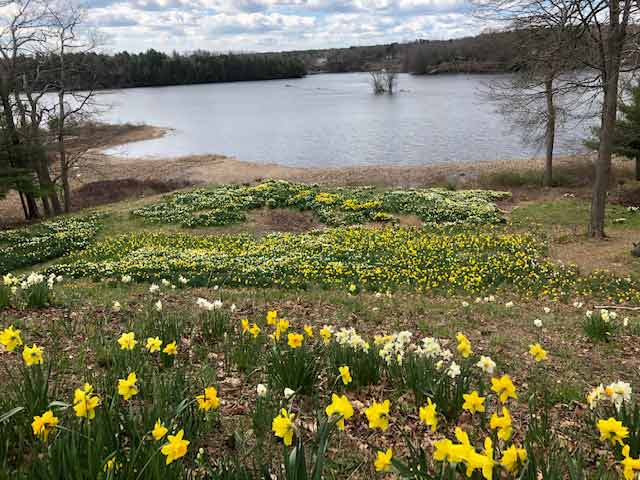 "Just to let you know that Maine is in full spring bloom," writes Pat Campbell. "I am back in the studio, now that it is warm and beautiful to work out there. I am making smaller pieces. Just across the street from me is a hill of thousands of daffodils with the river beyond it. This is where I walk. I also walk on the beach. That is quite wonderful especially on a nice warm day. All goes well."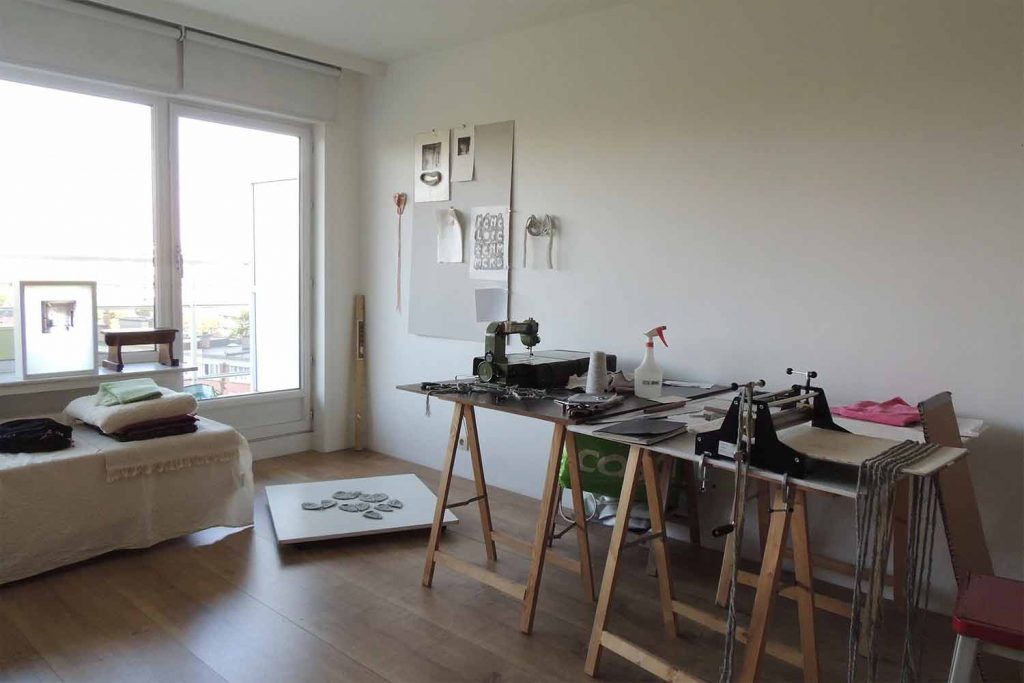 "At the begining of the lockdown," wrote Stéphanie Jacques from Belgium, "I continued to drive to my studio which is on the other side of Brussels. But it was too depressing to meet no one there. So I moved my etching press and my needlework to my living room (and put my big dining table in my small kitchen). In the beginning, it was difficult to concentrate — too much information in my mind and too many emotions. I've tried to stopped listening to the news. To sew and to cycling are my remedies (Oh and Spotify also:-). I'm lucky, my apartment is very close to the countryside, so I can catch some feelings of freedom on my bike everyday. Lockdown does not change my way of working so much (well, that's not completely true, in April I had to work on a community project that is postponed, until I don't know when). But even as I try to focus on the positive, there is something frightening to see our lives reduced to fetching food … all this has further strengthened me in my desire to pursue the path of creation!"

Stay Safe, Stay Separate, Stay Inspired!