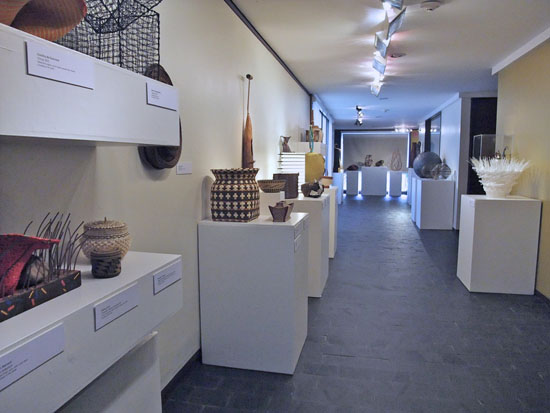 We traveled to Brockton, Massachusetts this weekend to see juried works by members of the National Basketry Organization at the Fuller Craft Museum http://www.fullercraft.org/exhibitions.html#Basketry.
Among the highlights in our view: Sunrise Artifact by Mary Giles;  Woven Vessel by Jonathan Kline; Marked by a Sapsucker by Dorothy Gill Barnes; Tipped by Nancy Koenigsberg a Basket Book #5 by Arlene McGonagle (of course, we're suckers for anything related to books). Most impressive, however, were works that appeared to be diptychs.  First, was a pair of  large works, Cave and Snag by Linda Bills, made a year apart, but seamlessly echoing each other in shape and offering an intriguing contrast in volume.
Second was a single piece, Wait, Weight by Jo Stealey, that seems to be two, interlocking basket/bowls of letters (yes, she had us at "A"). The show, which runs through December 11th, is worth seeing — with 85 pieces there is considerable variety in materials, technique and aesthetic. The exhibition would have benefited from more white space, however. The works are placed so close to one another it requires a second walkthrough to really focus on individual pieces.
If you can get there before Loom and Lathe: The Art of Kay Sekimachi and Bob Stocksdale closes on September 11, 2011, do. There are interesting works by Kay Sekimachi in this show that did not appear in previous exhibitions of these artists' work. Although this exhibition also features a large number of pieces in a limited space, as a result of Stocksdale's and Sekimachi's minimalist aesthetic and muted color palette, the installation is more successful.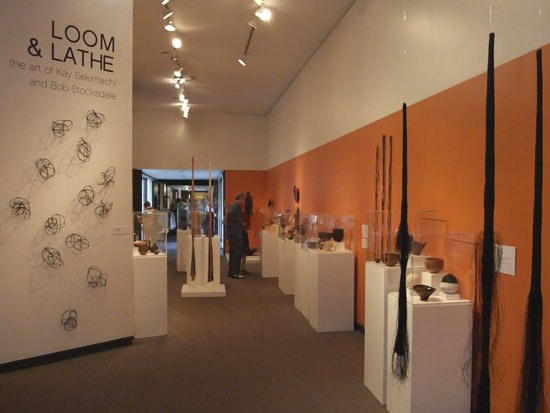 We missed Fold It: Deena Schnitman, an installation of cookbooks which is on view in the café because we didn't know it was there.  We didn't miss the Flint Farm Stand, though, just down the road in Mansfield.  Great fresh corn and ice cream that has people standing in line.
All Things Considered IV includes 12 artists whose work is represented by browngrotta arts.  Click any image to see more examples of these artists' work.
Fuller Craft Museum
455 Oak Street
Brockton, MA 02301
508-588-6000
http://www.fullercraft.org/home.html.