Grethe Sørensen's work is the subject of a dramatic installation at the Round Tower in Copenhagen, Denmark. Traces of Light, couples digital jacquard by Sørensen and video by Bo Hovgaard, film & video producer. Video recordings of light in the city at night served as the starting point for the project. The unfocused camera acts as a filter that transforms the realism of billboards, street lamps and brightly colored surfaces into varying color effects. The recordings reflect four themes: Rush Hour, City Light, Passing by and Times Square in a Rush. The exhibition includes 18 large weavings alongside the video in large format. The flowing movements of the video create an ethereal counterpoint to the weight and structure of the weavings. Rundetaarn Købmagergade 52A, 1150 Copenhagen K, 33 73 03 73; post@rundetaarn.dk; http://rundetaarn.dk/engelsk/udstillinger.html#Traces_of_Light_; through March 11, 2012.
A Sense of Place, at the Philadelphia Art Alliance, 251South Street, http://www.philartalliance.org/exhibitsnew.htm, includes work by Marian Bijlenga and seven other artists. It closes on April 21st.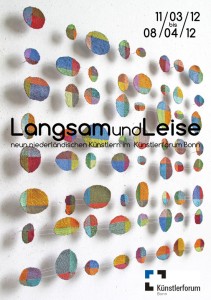 Bijlenga's work will be part of Langsam + Leise (Softly + Quietly) at Künstlerforum Bonn, Hochstadenring 22-24, 53119 in Bonn, Germany, http://www.kuenstlerforum-bonn.de/typolight/index.php/
suche.html?keywords=bijlenga&x=0&y=0, which opens March 11th and runs through August 4, 2012.
Chris Drury's work will be a part of Landscapes of Exploration, at the Peninsula Arts Gallery, Plymouth University, UK, from February 11th to March 31, 2012. Ten visual artists, one musician and three writers undertook residencies in the Antarctic between 2001 and 2009, under the auspices of the British Antarctic Survey, supported by Arts Council England. This exhibition will bring together for the first time art resulting from the various artistic investigations, offering an opportunity to examine the role of contemporary art in examining Antarctica. Plymouth University, Roland Levinsky Building, Drake Circus, Plymouth, PL4 8AA; http://www.plymouth.ac.uk/pages/view.asp?page=28345#landscapes.
The Plymouth City Museum and Art Gallery in Drake Circus will feature a companion exhibit, From Plymouth to Pole: Scott, Science and the Men who Sailed South through April 14, 2012.