We are heartbroken to report that innovative contemporary basketmaker and fiber sculptor Dorothy Gill Barnes, passed away peacefully on November 23, 2020 at age 93, after a short battle with COVID-19. Barnes was a revered member of the browngrotta arts community — she taught our son to harvest materials and mark trees when he was just three.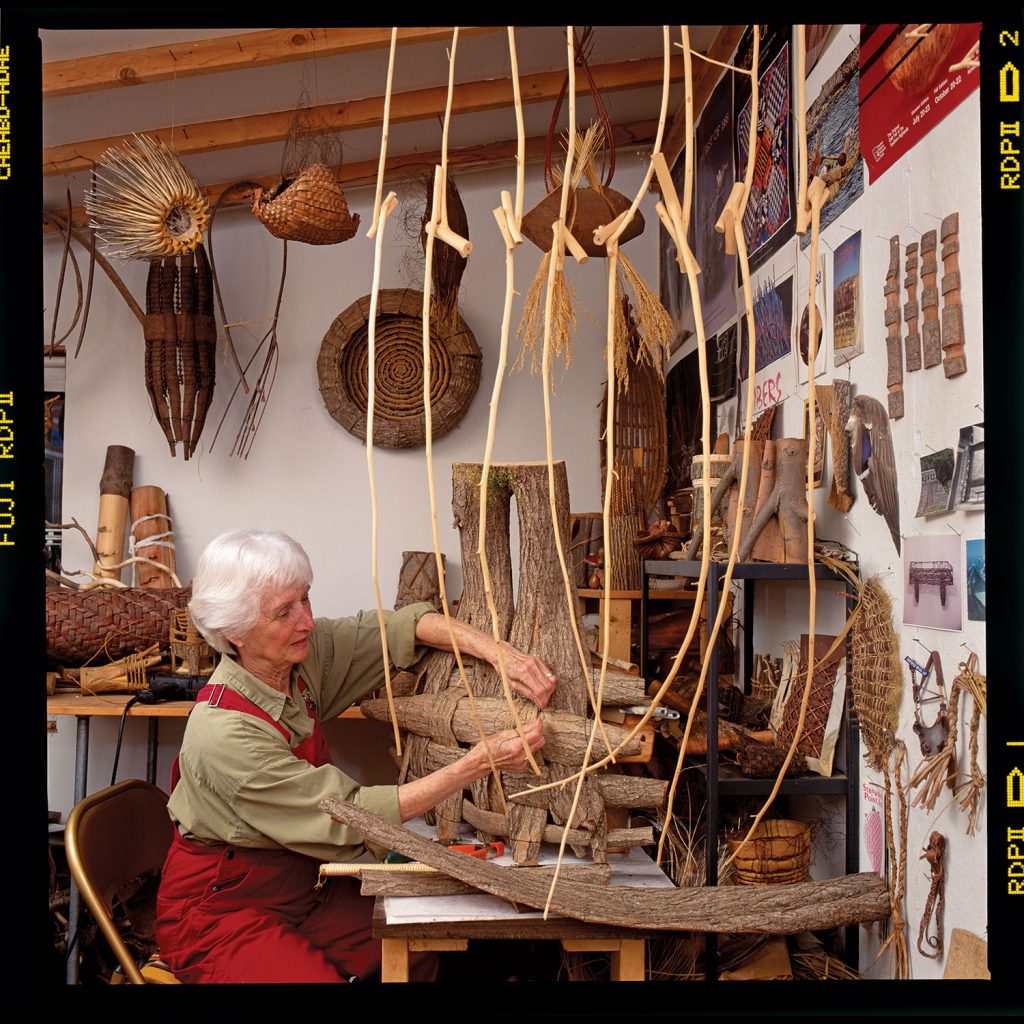 Barnes was known for developing a distinct working process that included scarring trees that had been marked for eventual removal and returning years later, after the trees had been cut, to harvest the scarred and overgrown bark for use in her baskets. This process enabled her to create dendroglyphs—literally, "tree drawings" — in which tree and time became her collaborators. "The unique properties I find in bark, branches, roots, seaweed, and stone suggest a work process to me," Barnes said. "I want this problem solving to be evident in the finished piece."
Born in Iowa, and a longtime resident of the Columbus, Ohio area, Barnes studied at Coe College, Minneapolis School of Art and Cranbrook Academy, as well as at the University of Iowa, where she earned BA and MA degrees in art education. Barnes taught fibers as an adjunct faculty member at Capital University in Columbus, Ohio, from 1966 until her retirement from university teaching in 1990. Throughout much of her career, Barnes was a sought-after teacher, participating in residencies and workshops in Denmark, New Zealand, Australia, Fiji and Canada, as well as throughout the United States. Barnes' early influences were the artist and teacher Ruth Mary Papenthien, who taught at Ohio State University, and Dwight Stump, an Ohio-based traditional basketmaker. She also credited the works of John McQueen and Ed Rossbach as spurring her experiments using natural materials to make contemporary sculpture.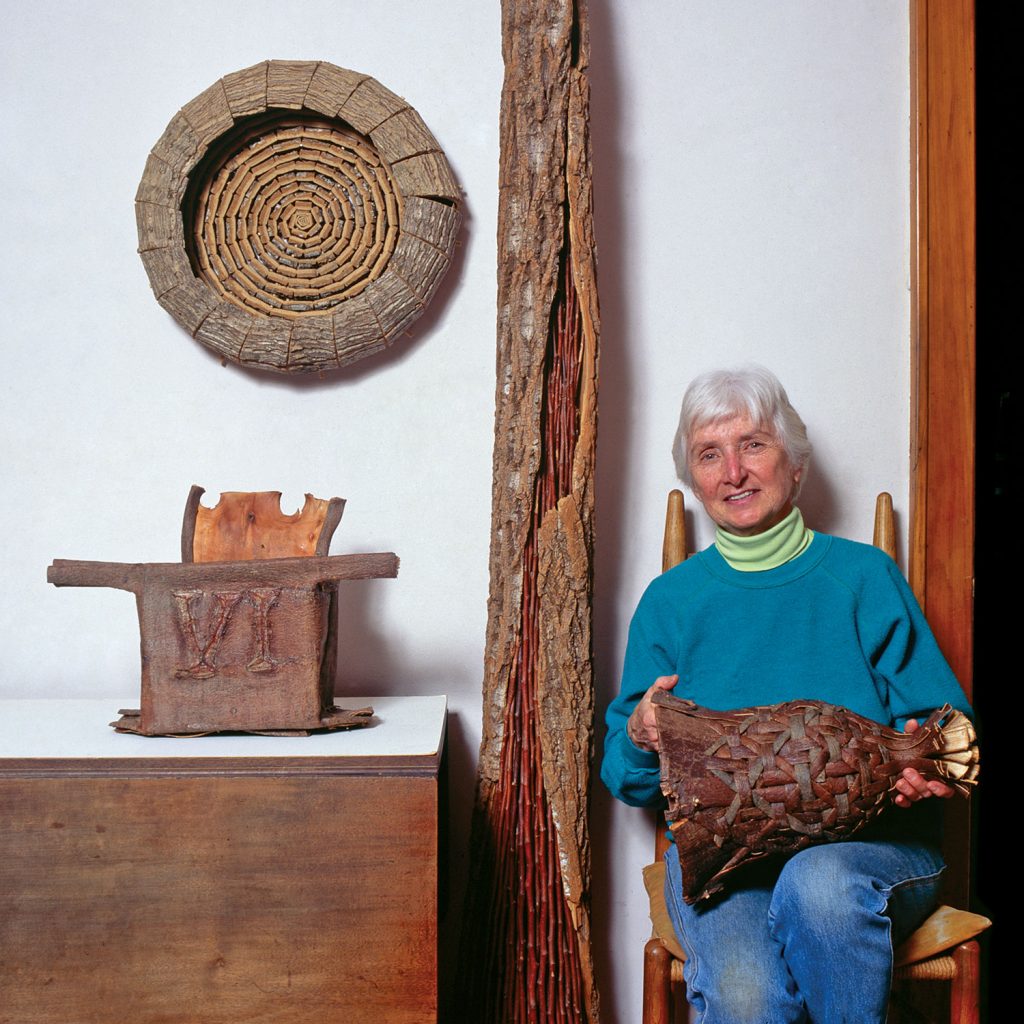 Barnes' technical investigations placed her at the forefront of contemporary fiber art. She used electric tools to expand the scale, scope and complexity of her pieces and she credited power equipment as the source for ideas that handwork alone would not have suggested. She was comfortable incorporating nails, metal wire and staples along with traditional woven assembly methods. In all of her sculptures, Barnes sought to create structures that honored the growing things from which they came, her materials "respectfully harvested from nature." Like Rossbach and McQueen, she prized experimentation, spontaneity, inventiveness. She continued to expand her artistic practice into her 90s, as a visiting artist working with students in glass in the Department of Art at Ohio State University until 2018.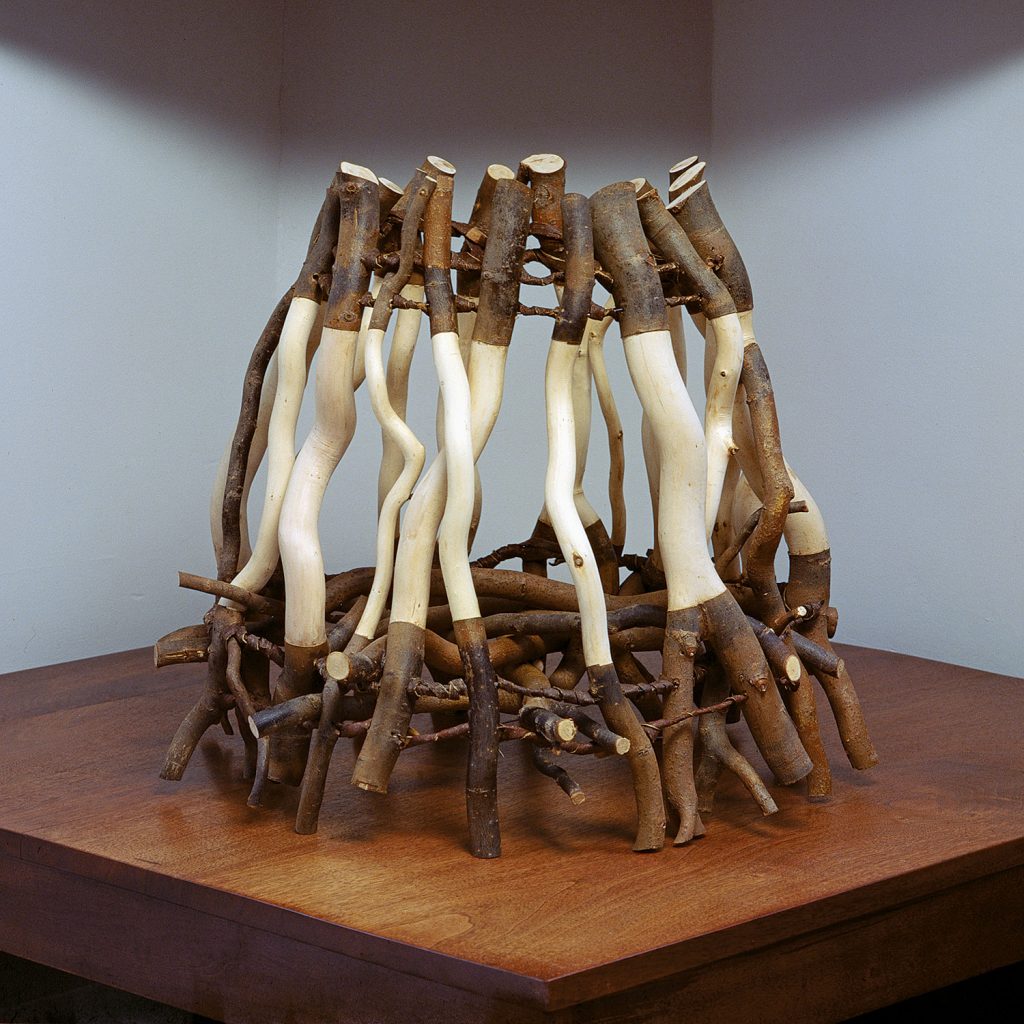 A Fellow of the American Craft Council, Barnes received lifetime achievement awards from the National Museum of Women in the Arts in Washington, DC and the National Basketry Organization. Other awards include the Raymond J. Hanley Award, Outstanding/Artist Educator from Penland School of Crafts, an Individual Artist Governor's Award for the Arts in Ohio, and four Ohio Arts Council Individual Artist Fellowships. Her work is in the collections of the Columbus Museum of Art; the de Young Museum of the Fine Arts Museums of San Francisco; the Mint Museum, Charlotte North Carolina; Museum of Arts and Design, New York, New York; Racine Art Museum, Wisconsin; Longhouse Reserve, East Hampton, New York; Arkansas Arts Center, Little Rock; the Renwick Gallery, Smithsonian's Museum of American Art, Washington, DC; Museum of Fine Arts, Houston, Texas, among others. In Nature, a comprehensive retrospective, was held at the Mansfield Arts Center in 2018. The Ohio Craft Museum hosted From the Woods: Dorothy Gill Barnes, a major mid-career survey in 1999.
Barnes' work has been represented by browngrotta arts in Wilton, Connecticut since the 90s. "Barnes' ability to showcase the natural materials with which she worked, yet enhancing them through weaving, plaiting, scarring, stacking and sflaying, placed her at the forefront of contemporary fiber art," observes Tom Grotta, co-curator of browngrotta arts.
"[Barnes] is attentive to the innate characteristics of a given wood in her aesthetic decision making and rarely forces a wood into an unnatural or artificial mold," wrote Jeanne Fryer-Kohles in From the Woods: Dorothy Gill Barnes, the eponymous catalog for Barnes' solo exhibition at the Ohio Craft Museum. "At the same time, she works intuitively with an experimental turn of mind and integrity of vision …. Barnes' works are rarely preplanned; she prefers to wend her way toward and into a piece, accepting detours and possible pitfalls as a matter of course. Barnes takes raw nature as a starting point. Rather than subjugating it, as [John] McQueen does, with a 'civilizing' impress, Barnes guides and amplifies it – in a sense, keeping its ghost enshrined."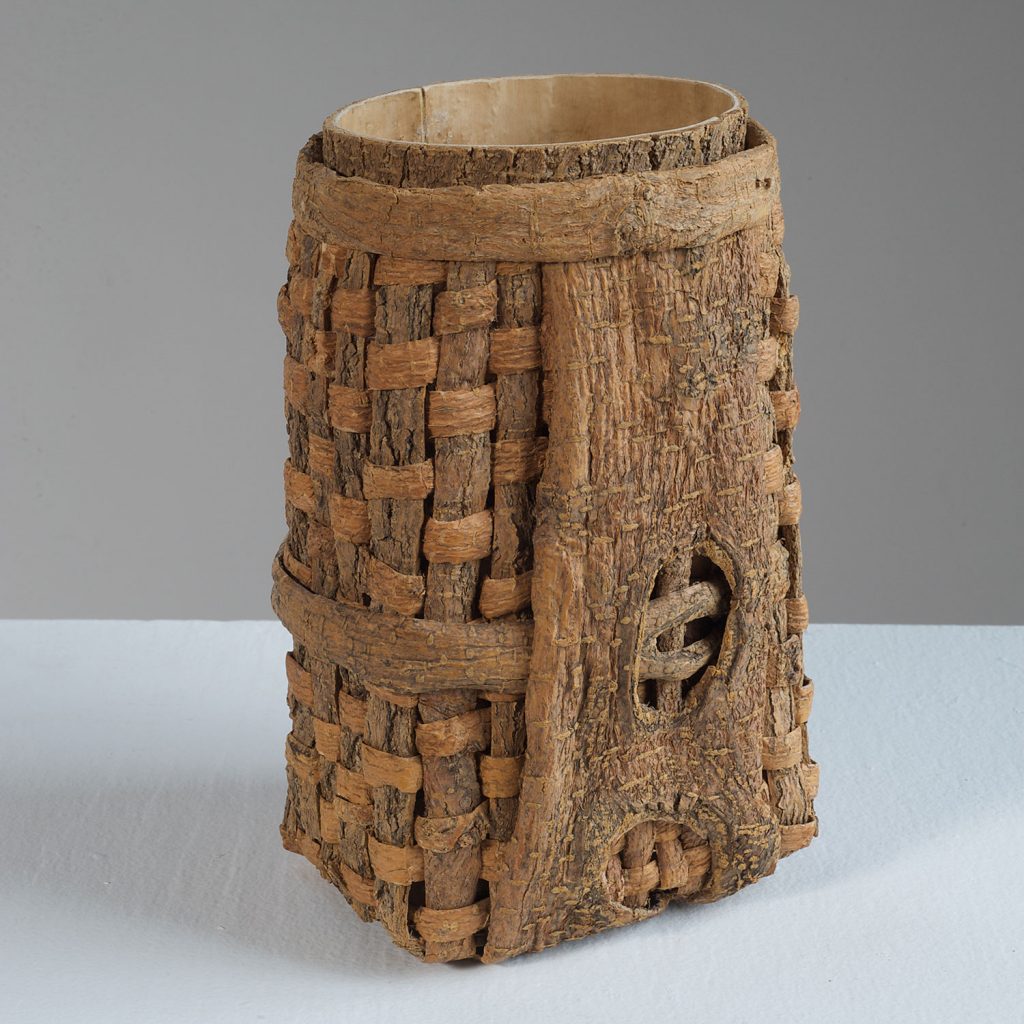 Barnes also had a long history of activism in the civil rights and anti-war movements. She could be found every Saturday for many years, on the Worthington Village Green with her friends from Central Ohioans for Peace, encouraging drivers to "Honk for Peace" as they passed. She encouraged others to think globally and have empathy for all, regardless of differences. She supported environmental conservation, Honduras Hope and Habitat for Humanity, where she was a longtime volunteer.
Friends are invited to attend a virtual celebration of life to honor Dorothy Gill Barnes on Sunday, December 13th from 3-5 PM EST. Details are available at www.schoedinger.com. Donations in Barnes' memory can be made to The Nature Conservancy (www.nature.org), Sierra Club (www.sierraclub.org), or to a charity of your choice. Please visit www.schoedinger.com to send online condolences.