The Textile Museum at George Washington University in DC has a portrait exhibition in the works. Learning about the Museum's plans got us thinking about works created by browngrotta artists that feature human likenesses. We have a preference for abstract works and find them easier to exhibit as a group in the gallery. As a result, we don't exhibit many works that are figurative, but we do find faces rendered in textiles consistently appealing. They record a person's existence, but traditionally reflect much more — power, status, virtue, beauty, wealth, taste, learning or other qualities of the sitter. Portraiture can be popular with artists because of the freedom of composition it involves — lighting, angle of the head, hair, clothes, background, facial expression — almost endless options. Below is a gallery of some engaging portraits by artists who have worked with browngrotta arts.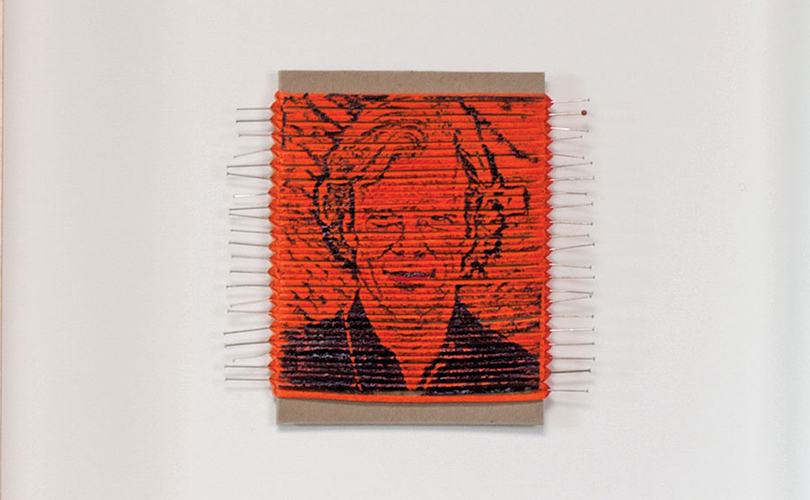 This deconstructed portrait by Ed Rossbach works on two levels — it appears to be a model of the way a likeness can be formed, and of course, it revels the likeness in black transferred onto fabric.
Portrait by Ethel Stein is an imagined depiction of a woman in contemplation while Helena Hernmarck's On the Dock seems to capture an actual moment in time.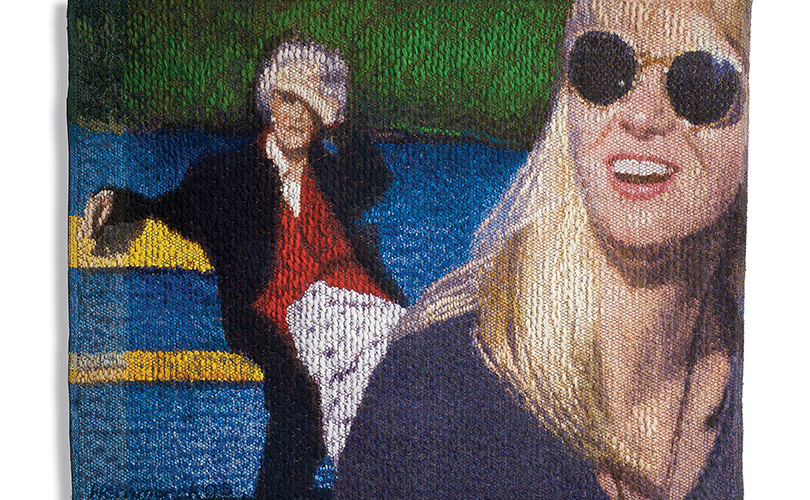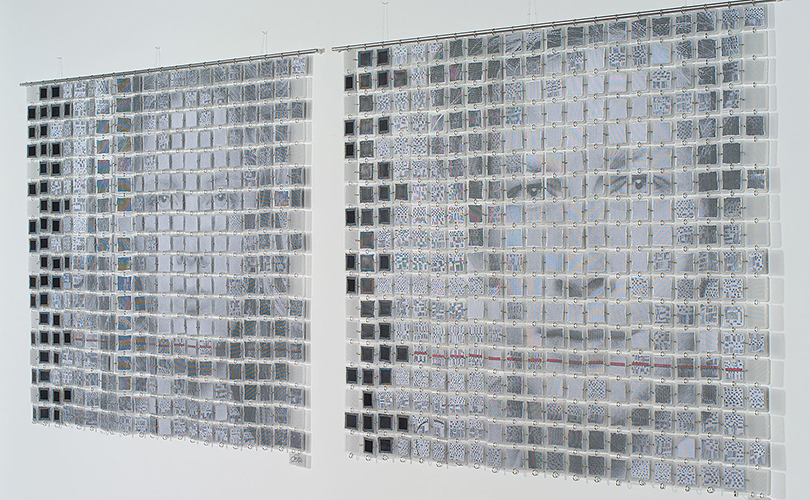 Marjike Arp made a statement about gender in DNA=Unique. The pair of subjects resemble one another and raise questions for the viewer: Are they related? Are they more similar than different?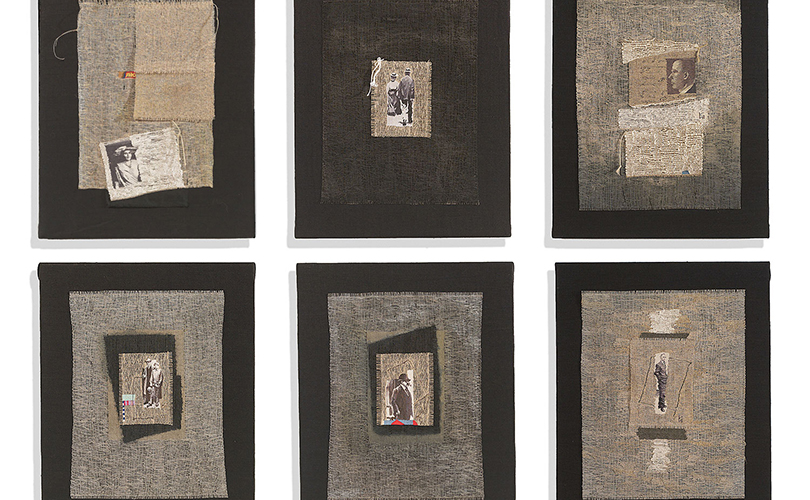 Other artists also work from photographic images. Irina Kolesnikova, for example, likes old black-and-white old photos. "I play with images of these pictures, using silhouettes, details of dress, signs of profession. I make collage and imitate collage in woven technique. You can not recognize an exact person in these pieces, because it is not important for me …. I like a paradoxical combination of contemporary art language and ancient handweaving technque."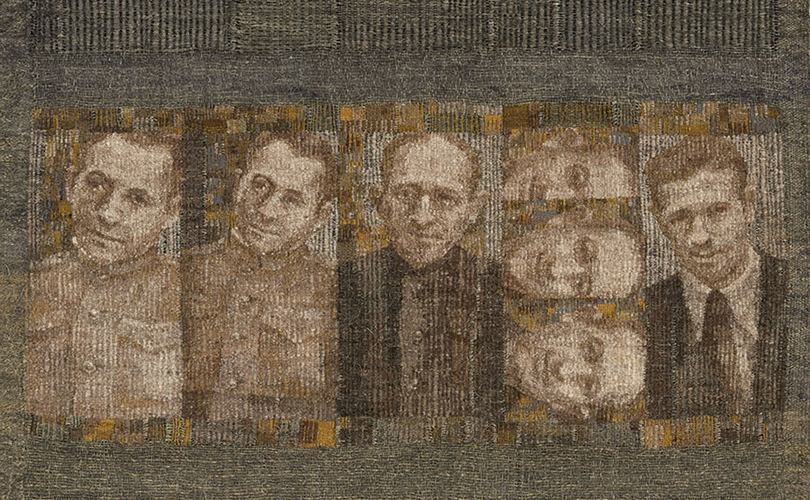 Ukrainian-born artist Aleksandra Stoyanov began making tapestries in 1987, building on her background in graphic and set design. Some of these are based on photographs from her family album. The images evoke memories; the position of the subjects' heads on their sides suggests the importance of one's vantage point in interpreting events.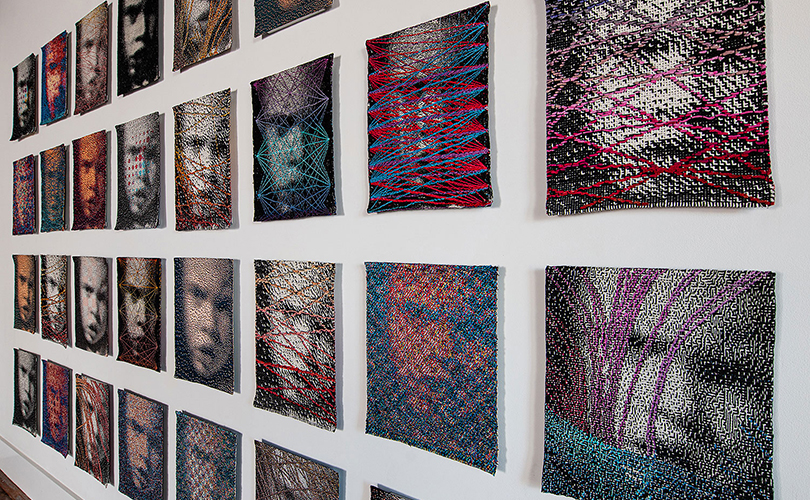 Lia Cook is a master of creating woven portraits from photographic images. Her Su Series Installation features 32 individual portraits. The exact same face, an image of Cook as a child, is used in each of the pieces but it is physically and materially translated differently each time through the weaving process. "The specific way each is translated creates a subtle and sometimes dramatic variation in emotional expression." Cook says. "As one moves through the installation each iteration evokes a new response. The experience of the person viewing the piece is what is important to me. I am interested in the threshold at which the face dissolves first into pattern and then into a sensual tactile woven structure. What does this discovery and the resulting intense desire to touch the work add to our already innate, almost automatic emotional response to seeing a face?… The viewer can experience sadness, happiness anger fear etc. They don't believe it is the same image". It is fascinating to Cook — and to viewers of her work — that how an image is translated through the technical weaving process can change the emotional expression of the work.