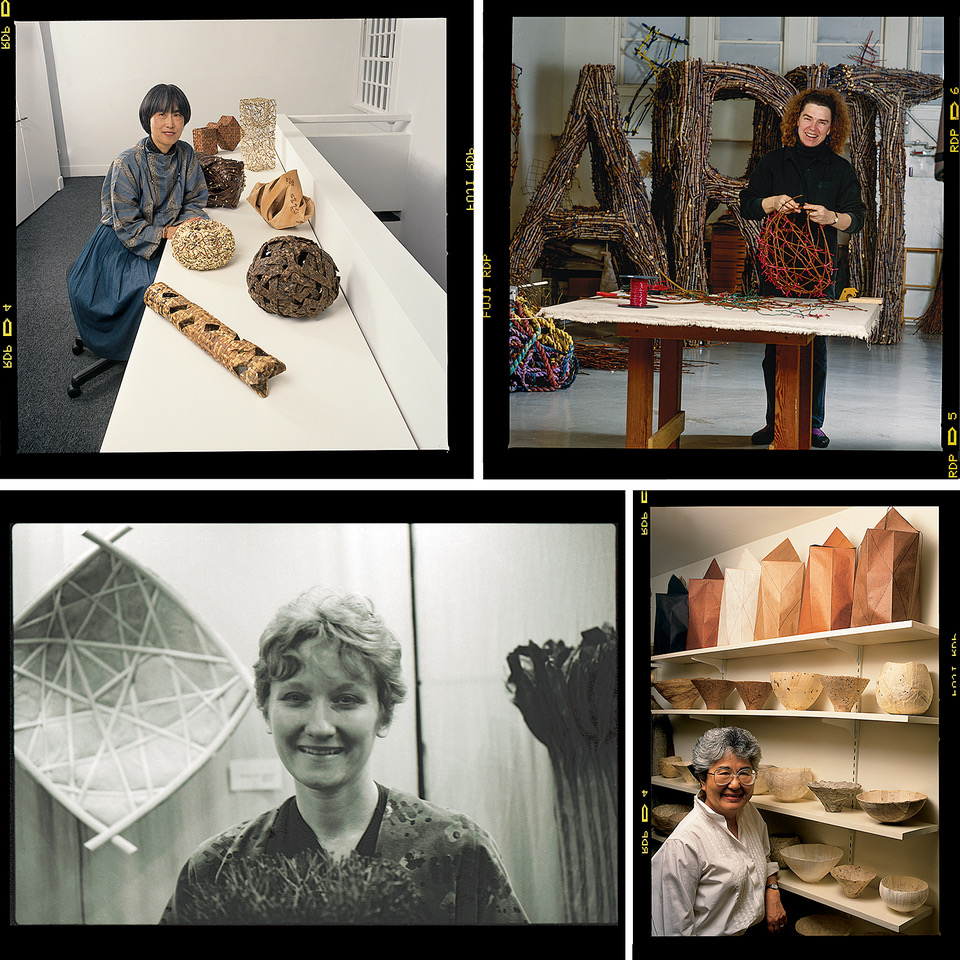 In our 50 catalogs, we have showcased the work of 172 different artists. Four of these artists, however — Mary Merkel-Hess, Kay Sekimachi, Hisako Sekijima and Gyöngy Laky — we have repeatedly chosen as a focus. Each has been the subject of more than one catalog — solo or two-person or special grouping — and each has been featured in several of our themed survey publications. These artists explore different materials or forms, creating objects and works for the wall. That willingness to innovate and reinvent has made them continuously collectible for those who acquire works in breadth and for those who pursue the work of individual artists in depth as well.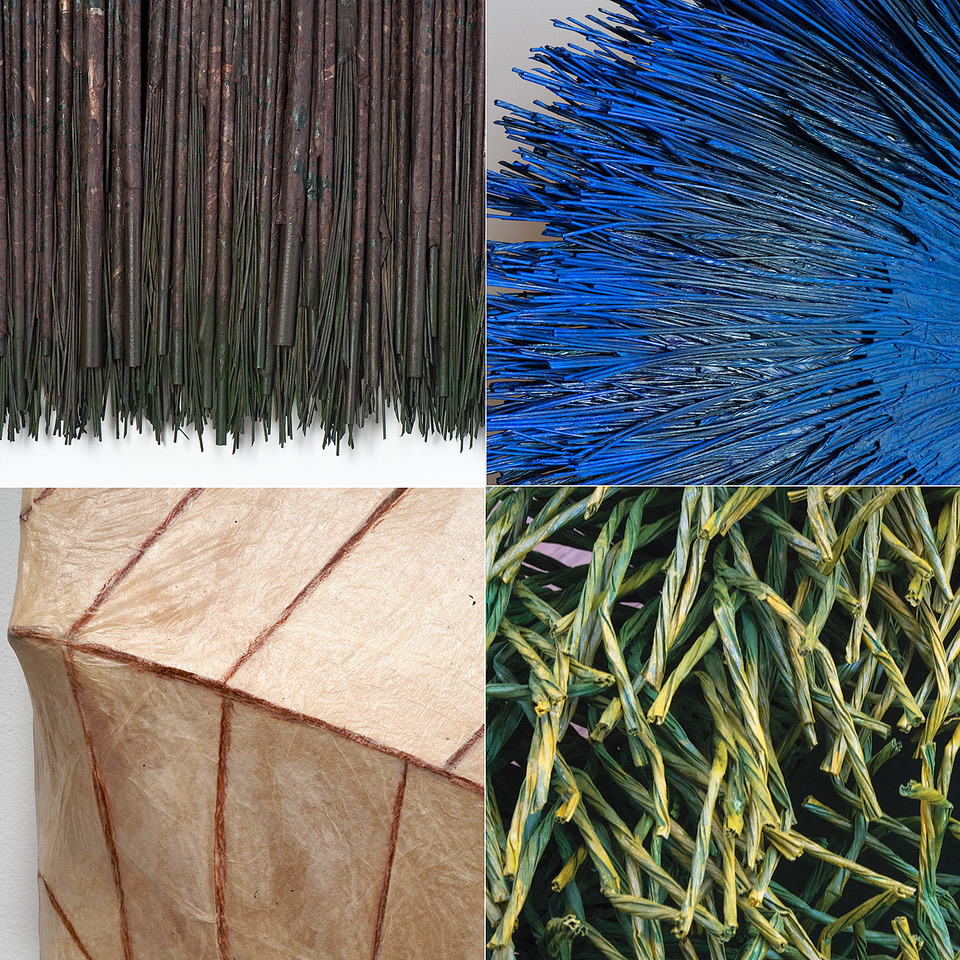 Mary Merkel-Hess's work was the subject of one of our first catalogs in 1992 (#2) Mary Merkel-Hess. The work in our first solo exhibition of her work was brilliantly colored — vessels of green, indigo, cornflower, red and bronze — but our catalog technology was strictly black and white. Despite the noncolor depiction in the small catalog, the lyrical works of papercord and reed were popular and sold out. Her work was acquired by the Metropolitan Museum of Art that year — one of the first contemporary baskets to enter the Museum's collection. The success of that exhibition spurred us to host a second show, work by Merkel-Hess and Leon Niehues, in 1996 (#15). Merkel-Hess threw us a curve, though, by skipping the color that we considered her hallmark and producing, instead, a show of work made of translucent white papers — gampi, kobo, abaca, flax — some of it tinged with gold. These works turned out to be as popular as those in color. Since then, her works have become larger and more sculptural and her recognition has grown while her popularity with collectors has remained a constant. Her work will be part of Volume 50: Chronicling Fiber Art for Three Decades (#50), in September of this year.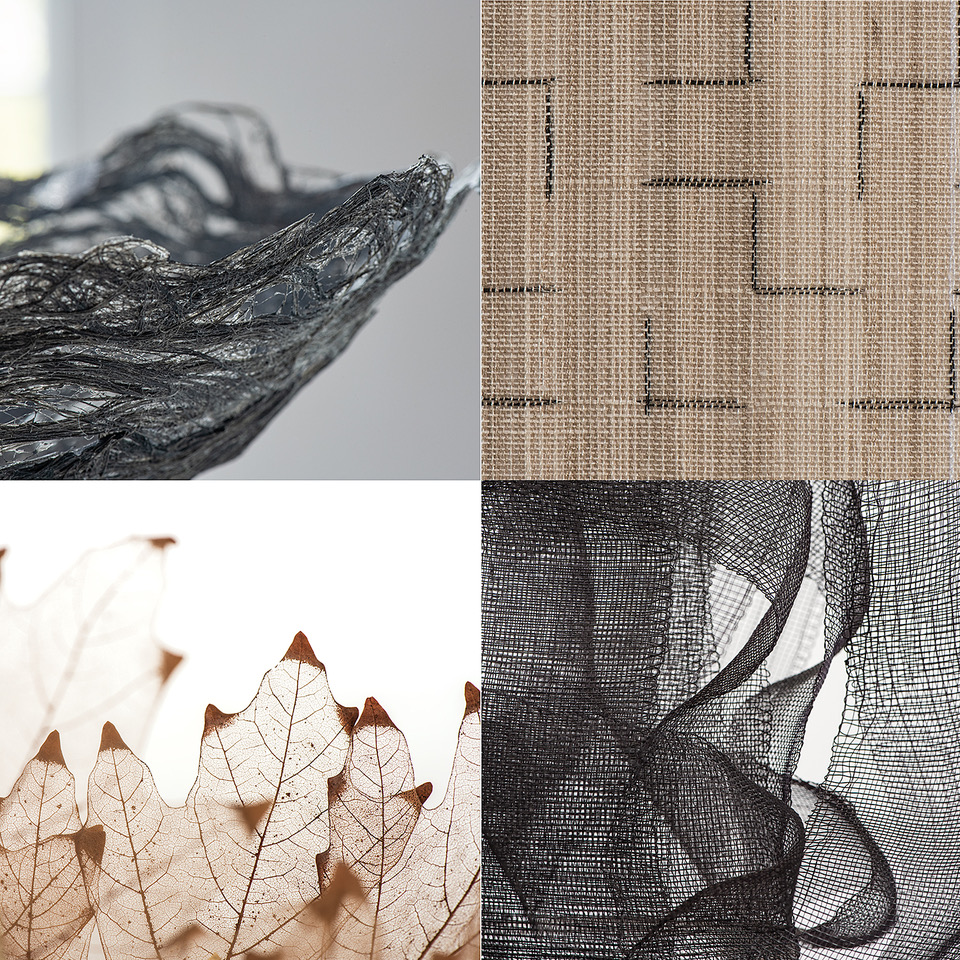 In catalog (#3) Bob Stocksdale and Kay Sekimachi, also 1992 and still black and white, Kay Sekimachi's work made its first appearance, coupled with wood bowls turned by her husband, Bob Stocksdale. Sekimachi has reinvented her practice several times in her lengthy career. She studied weaving with Trude Guermonprez in San Francisco and Jack Lenor Larsen at Haystack in Maine in the 50s. By the 60s she was working with complicated 12-harness looms to create ethereal hanging sculptures of monofilament, then a new material. They were featured in MoMA's Wall Hangings exhibition in 1963, Deliberate Entanglements at UCLA in 1971 and the Lausanne Biennial in 1975 and 1983. Sekimachi was also part of the contemporary, nonfunctional basket movement with other California artists in the 1960s and 1970s. This body of work included small woven baskets and woven paperfold-like boxes made of antique Japanese papers. For our exhibition in 1992, she created gossamer flax bowls and patched pots of linen warp ends and rice paper. For our our 1999 exhibition, (#24) Bob Stocksdale Kay Sekimachi: books, boxes and bowls, she created woven boxes and books, and bowls in typical Japanese ceramic shapes that she formed using Stocksdale's turned bowls as molds. Still the subject of museum recognition and collector acclaim, Sekimachi continues to work at 94, weaving intimate, abstract weavings reminiscent of drawings in pen and ink.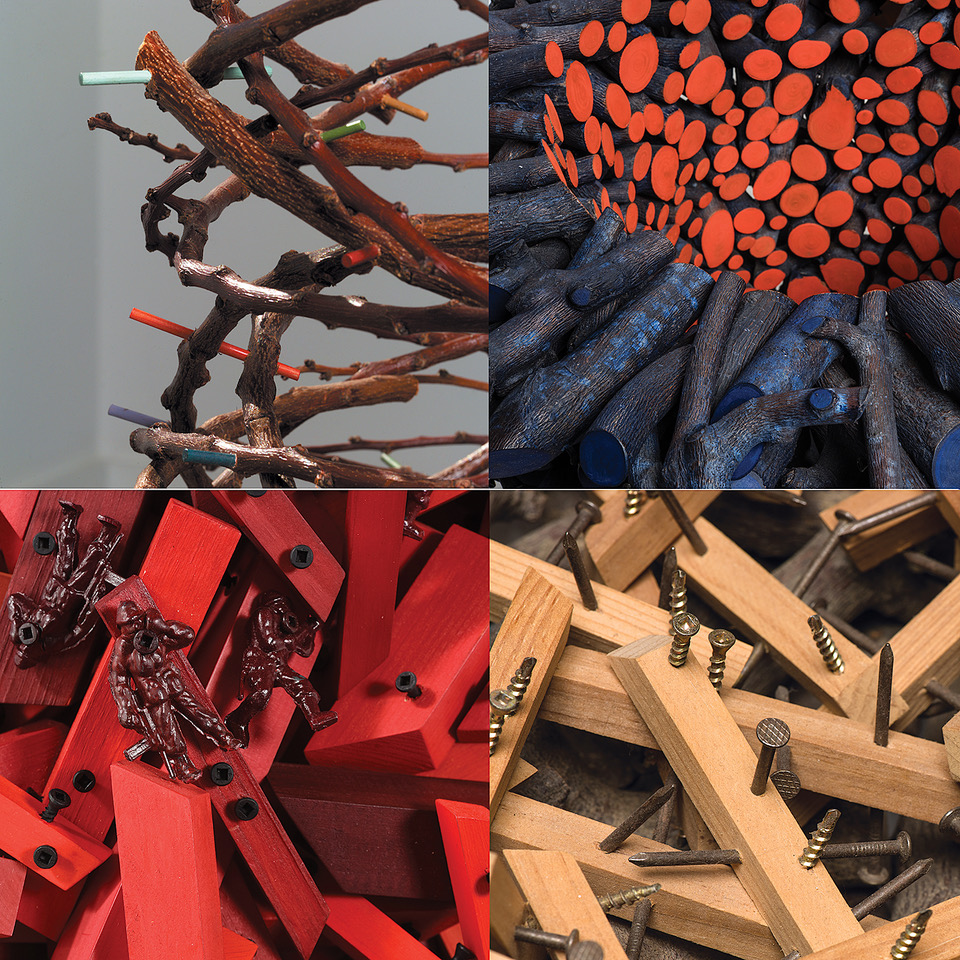 In 1993 we produced our first catalog featuring Gyöngy Laky's work (#5) Leon Niehues and Gyöngy Laky. The exhibition included 13 vessel shapes and one wall work. In 1996, we visited Laky's complex construction again (#16) Gyöngy Laky and Rebecca Medel. "I think of myself as a builder of sketches in three dimensions," she said of her textile architecture. The 1996-1997 exhibition featured Laky's three-dimensional words, an important aspect of her oeuvre. The two versions of the word "No" or "On" illustrated the myriad ways in which such themes are deftly articulated by Laky. Affirmative No. 1 was made of brightly colored, coated telephone wire, piled and sewn. Affirmative No. 2 was much larger — the "O" made of branches still covered with bark, the "N" made of pieces of stripped, unfinished wood. The catalog also contained an image of That Word. Now in the collection of the federal court in San Francisco, it spells out "ART" in larger-than-life, 3-d letters made of orchard prunings that are seven feet tall. Laky has continued creating word sculptures that combine natural and manmade materials, as disparate as bleached cottonwood branches, plastic army men and construction bullets of metal. In 2008, The New York Times Magazine commissioned her to create titles for its environmental survey, "The Green Issue." The works that resulted were awarded a Type Directors Club Award. Laky will have two works in Volume 50: a large vessel-shaped sculpture and a type-related, free-standing arrow.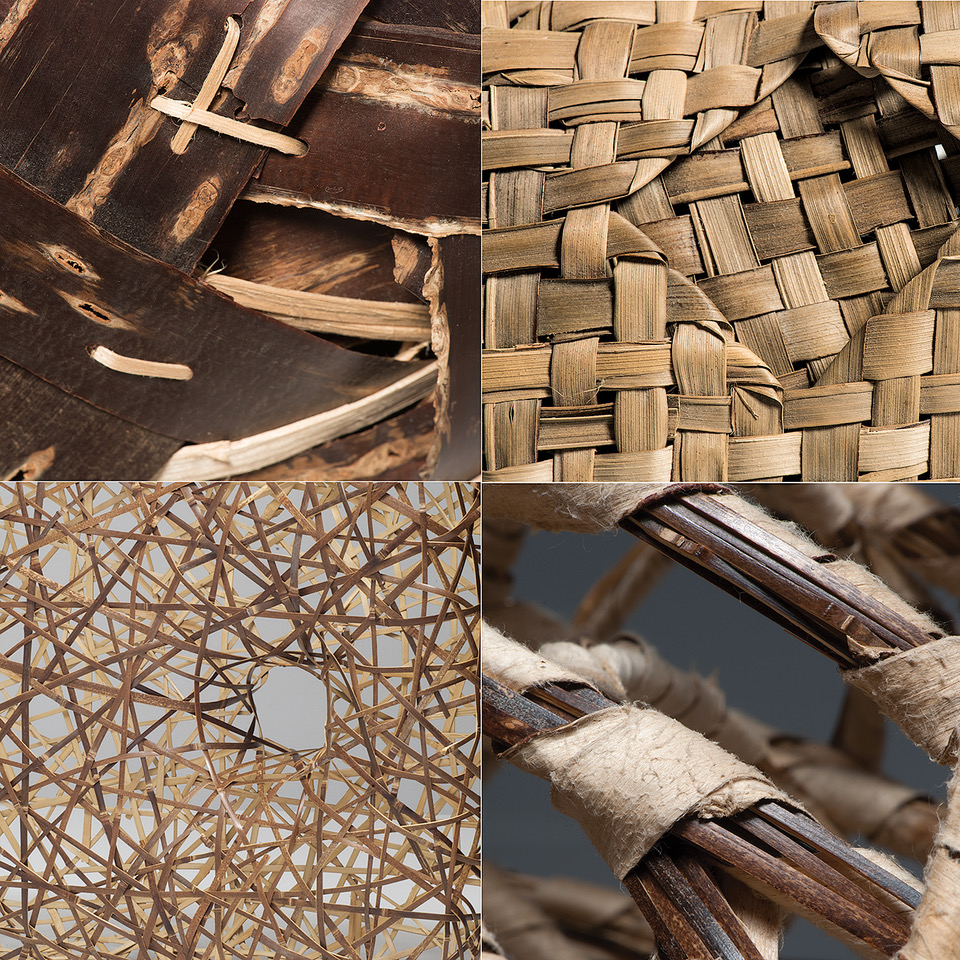 Last, but certainly not least is Hisako Sekijima, whose innovation and artistry seem to know few bounds. We have focused on her work in three catalogs — (#8) Hisako Sekijima/1994; (#19) Glen Kaufman and Hisako Sekijima/1998; (#30) Japan Under The Influence: Innovative basketmakers deconstruct Japanese tradition/2001. Bark and vine become fabric and thread, framing and nails as Sekijima conducts her experiments in volume and void. The first catalog of Sekijima's work (#8) included works in wide variety of materials — cherry bark, kudzu vine, cedar, willow, hackberry, bamboo. We were particularly pleased when The New York Times made the 1994 exhibition and the variety of work included the subject of a full-page article in its Connecticut section. They turned to her work again in The New York Times Magazine, including a work of kudzu vine in an article on the uses of the invasive species. We visited Sekijima's work again in 1998, pairing her pieces, this time of zelikova, apricot, hinoki, walnut and palm hemp bark, with jacquard weavings by Glen Kaufman featuring photographic images of Kyoto. In 2001, we combined works by seven basket artists in Japan: Under the Influence, Innovative basketmakers deconstruct Japanese tradition #30). Sekijima was included, as were four of her students from Japan — Norie Hatekeyama, Kazue Honma, Noriko Takamiya and Tsuroko Tanikawa— each of whom had, like their teacher, had mastered Japanese basketmaking tradition, only to give it a twist. Sekijima wrote in Japan Under the Influence, that Kay Sekimachi (also featured in the catalog) was one of the American artists whose "new notions of basketmaking" and "new forms" had a decisive impact on her as she studied basketmaking in the late 70s. "Since then," she wrote, "Sekimachi has always been one of my teachers at a distance. Her work has always reminded me of a Japanese respectful expression orime tadashii, which literally means, 'one's kimono preserves neat lines of folding which connotes integrity of behavior.'" Sekijima's work, A Line Willow IV is part of our September exhibition. Like the works these artists have produced over nearly three decades, A Line Willow IV, represents a line innovative art making that is knotless, homogeneous and flexible.

See more at our September exhibition, Volume 50: Chronicling Fiber Art for Three Decades (#50).