A host of important exhibition featuring art textiles is in store this summer in Europe, the UK and Canada.
Rijswijk Textile Biennial 2015
May 9 – September 27th
Museum Rijswijk, the Netherlands
In the 2015 Textile Biennial, Museum Rijswijk is showing textile artworks by nineteen international artists including Caroline Bartlett and Ane Henriksen. Apart from the great diversity of textiles and applications, there are common threads evident among the participants this year. All the Submitted works provide material for thought and reflection. Vintage textile, wool, embroidery floss and flax are used in combination with techniques including weaving, cross-stitching and knitting to conjure up loving memories, melancholy or even alienation through a contemporary idiom. For more information, visit: http://www.textielfestival.nl/symposium/rijswijk/rijswijk.php.
Water-Land, International Competition
Textile Festival
Leiden, the Netherlands
May 2015
Fifty-four works were selected from 175 entries. Ceca Georgieva's Memory from the Future was the only entry selected from Bulgaria Bulgaria and was awarded 3rd Prize. The jury wrote of Georgieva's work that, "The use of the material, the thistles, is extraordinary surprising. It is a unique concept in an own technique. The fishes are worked on gauze, that holds the thistles together. It is worked with a lot of imagination. The tessellation shows a proper modesty, the open spaces are an essential part."For more information, visit: http://www.textielfestival.nl/wedstrijden/genomineerden.php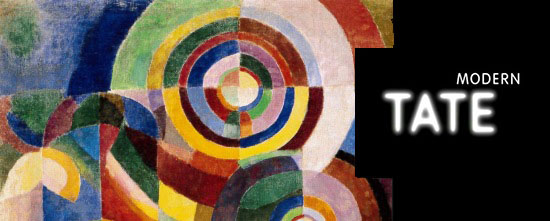 The EY Exhibition: Sonia Delaunay
April 15 – August 9th
Tate Modern, London, UK
The Eyal Ofer Galleries, Level 3
Garnering critical acclaim is the Sonia Delaunay retrospective at Tate Modern in London. Delaunay (1885–1979) was a key figure in the Parisian avant-garde who became the European doyenne of abstract art. Throughout the first half of the 20th century, she celebrated the modern world of movement, technology and urban life, exploring new ideas about color theory together with her husband Robert Delaunay. The exhibition features a wide range of media — the groundbreaking paintings, textiles and clothes she made across a 60-year career. Can't get to the exhibition? A comprehensive survey of her work, Sonya Delaunay, was published to accompany the exhibition. http://shop.tate.org.uk/exhibition-books/sonia-delaunay/invt/16460.
TWO WAYS-STUDIOS – Mariette Rousseau-Vermette and Claude Vermette: Crafters of Modern Québec
June 20 to October 12th
Contemporary Museum of Art, Baie-Saint-Paul, Québec, Canada
Two-Way Studios — Mariette Rousseau-Vermette and Claude Vermette: Crafters of Québec Modernity, invites visitors to wander through more than five decades of artistic creation. The art of Mariette Rousseau-Vermette (1926-2006) and Claude Vermette (1930-2006) offers a view of a way of life that emerged in Québec in the late 1950s. The work of the Rousseau-Vermettes most often in the form of murals or tapestries, were sometimes monumental and could readily be integrated in the architectural context. Their works, according to the Museum's publicity, express a basic tenet of the "Révolution tranquille" that aligns cultural production with social progress. Throughout the 60s, these couple managed to merge modernist values and traditional craft, aiming to express a cultural identity that could be both ultra-contemporary and respectful of the past. For more information, visit: http://www.macbsp.com/exhib_tocome.aspx.

2015 Miniartextil Como
Everyone to the Table
May 9 – June 21st
Former Church of San Francesco
Lake Como / Milan, Italy
This year's Miniartextil exhibition in the ex church of San Francesco at Como and in Villa Bernasconi in Cernobbio, is the 25th anniversary of the Miniartextil, the unique contemporary fiber art exhibition that annually takes place in Como, Italy and moves to Montrouge /Paris, Caudry and Venice. Fifty-four artists from 25 countries, including Anda Klancic of Slovenia, were invited to exhibit small works (20x20x20 cm). Several artists, including
Naoko Serino of Japan, were invited to create large-scale works for the Miniartextil. Serino's work, Generating-12 can be viewed in the Villa Bernasconi in nearby Cernobbio, Italy. For more information, visit: http://www.miniartextil.it.
Objective Station
June 5- June 14th
Toms Pauli Foundation
Rumine Palace/Espace Artaud
Lausanne, Switzerland
The exhibition in Lausanne, presented by the Toms Pauli Foundation, recalls the prominent role played by the Lausanne Biennials (1962 – 1993) in the history of the New Tapestry, currently experiencing a revival in Paris, Wolfsburg, London and the US. Photographic prints large format give to see bold and monumental installations. At the Espace Arlaud, the public is invited to rediscover the production of Magdalena Abakanowicz, textile artist and Polish sculptor who exhibited in Lausanne and gained importance as one of the major figures of the New Tapestry. For more info: http://polemuseal.ch/
Opus & Light Year XVIII
May 30 – June 24th
Madonna del Pozzo, Porta Monterone,
Spoleto, Italy
Studio A87 in collaboration with Palazzo Collicola Arti Visive
Opus & Light features Installations of works, in this case White Shell, created by Federica Luzzi, that complement the specificity of the venue, which is decorated with a fresco cycle that encompasses an entire century of the history of Italian painting (1493-1600). "This place has given me immediately the particular detail of the apse in the altarpiece of Brera of Piero della Francesca — the shell which stands an egg hanging by a thread, slightly misaligned with respect to the median axis," says Luzzi. For more information visit: http://www.artapartofculture.net/2015/05/30/white-shell-federica-luzzi/